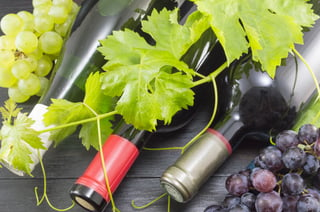 When you think of "Wine Country," you probably think of California. But Minnesota has some wonderful wines – thanks to some great grape pioneers, and the folks at the University of Minnesota. So, if you aren't familiar with our state's grapes, here is a look at three great Minnesota wine brands.
Since 1978, Alexis Bailly Vineyard has been producing wine with Minnesota grown grapes. While we are far from the Rhone region of France, or California's Napa Valley, here in Minnesota we have our own grapes that make wine a style of their own. We think Alexis Bailly says it best with the slogan, "Where the Grapes Suffer." Yep, our winters can do that, but they can also help produce some Minnesota wines we hope you'll discover.
Three Great Minnesota Wine Brands:
There are more than 60 regional wineries across this state. This tiny but booming market for our own wines is growing and we can thank the folks at the U of M.
The University of Minnesota's innovative research and development is credited for the cold hardy grapes that make these wines. In fact, the U of M has one of th
e top wine grape programs in the country. So, what types of grapes are used to make Minnesota wines? Frontenac, Frontenac gris, La Crescent and Marquette.
At Haskell's you'll find a wide array of locally produced wine on our shelves or online.
Hit the trails:
Of course, there are vineyards of wonderful Minnesota wines to check out:
Get outside and explore these beautiful wine trails. You have the Upper St. Croix Wine Trail, The St. Croix Wine, Heartland Wine Trail, Three Rivers Wine Trail and the Great River Road Wine Trail.
This fall weather won't last forever so take time to visit these vineyards and wineries during our exquisite autumn.
Founded in 1934, Haskell's has championed fine wines for over 80 years. We have 13 wine stores in Minnesota, two delis and one restaurant. As one of the top wine shops in North America, Haskell's is known for legendary service and one of the finest collections of wine, beer and spirits. Led by Chairman and CEO Jack Farrell, and the Farrell family, Haskell's continues to be at the forefront of the wine scene throughout the world. Haskell's also can ship wine, beer & spirits all throughout the world, the U.S. and we deliver locally.