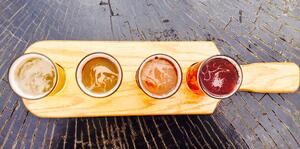 Sure, you can love your good ole' domestics year-round. And you can explore the burgeoning world of flavors in craft breweries around the United States without running out of great options. But why not reach beyond your normal scope and expand your horizons with a variety of global brews? You may have heard about some, but others will be an exciting new experience.
Here are some of our favorite international beers.
Tiger Lager
We will span the globe, starting with a selection from Asia. Behold Tiger Lager. A keen fit to the common drinker's desire for simplicity, this clear and golden beer won't fill you up like those big-bodied brews elsewhere. Classified as an American Adjunct Lager, Tiger is brewed in Singapore. You might find hints of sweet maltiness, delicate hops, and perhaps a nod to citrus and corn — but not much. This is filtered to crispness.
When to drink Tiger Lager: Soothe your spicy dinners and weekend lunches during August's still hot afternoons.
Zywiec Beer
If you can pronounce this one, you're probably Polish. Hailing from Eastern Europe, this mild beer from Zywiec Brewery keeps things consistent with other Euro lagers. This brewery celebrates its fresh mountain water, hops, and malt — no yeast used, as you'd typically find in similar lagers. Expect a grassy, golden straw aroma and grain body. Drink it cold and quickly to capitalize on its best moments.
When to drink Zywiec Beer: Watching the soccer match with your friends and tinkering around the garage.
Modelo Especial
OK, OK... so you've undoubtedly run across this one. There's a reason every Mexican restaurant and bar has Modelo Especial chilling on the menu. This is an accessible, carbonated beer people seek to quench their thirst and cool their hot sauce-afflicted taste buds. Another American Adjunct Lager, Especial is a low-alcohol brew at 4.4%, so you can drink one for every two or three tacos —just right.
When to drink Modelo Especial: Boating on the lake for the last few times before summer ends.
Xingu Black Beer
We now sink into the deep, dark forests of the Amazon with Xingu Black Beer. This Brazilian company prides itself on producing "smooth as silk" brew. Pronounced "shin-goo" and named for a tributary of the Amazon River, Black Beer is reminiscent of German dark pilsners known as Schwarzbier (which literally translates to, you guessed it, black beer).
Xingu has a complete backstory of nearly 500-year-old fermented beverage traditions in South America's most dangerous corners, adventurers, international travel, and the quest for delicious beer. What kind of adventure will you experience with Black Beer in your glass? Think roasty bread, few bubbles to distract, light-bodied, and surprisingly smooth.
When to drink Xingu Black Beer: Sitting on the deck as the sun goes down when you feel the first hints of autumn wind but still hold on to summer's warmth.
Whether you try an Asia-brewed lager or dark pilsner from the Amazon, you're bound to find a flavor palette you enjoy. Cheers as you celebrate the great big world of beer!