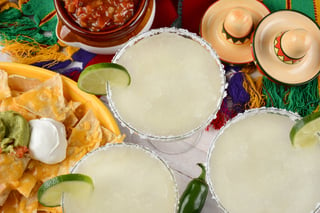 Cinco de Mayo is basically a victory party. It literally translates to May 5 in Spanish, and refers to the victory of Mexico's army over French troops at the Battle of Puebla back on May 5, 1862. Often confused with Mexico's Independence Day (September 16th, by the way), Cinco de Mayo just might be America's favorite Mexican holiday. Who doesn't like to celebrate victory?
So, what to drink? Sure, tequila is on the menu, but let's look at some recipes you'll enjoy mixing and serving. And, don't forget the food. You'll want chips and salsa, for sure, so why not whip up a new "signature" salsa?
Five Festive Cinco de Mayo Drinks to Mix Up
Ingredients:
2 ounces Blanco or Reposado tequila
6 ounces fresh grapefruit soda
1/2 ounce lime juice
Salt for rimming (optional)
Rim a Collins glass with salt. Fill the glass with ice and add the tequila and lime juice. Top it off with grapefruit soda.
Ingredients:
.5 ounce fresh lemon juice
1/2 tsp. superfine sugar
2 ounces Reposado tequila
.5 ounce Grand Marnier
Seltzer
In a cocktail shaker, stir together .5 ounce fresh lemon juice and 1/2 teaspoon superfine sugar. Add 2 ounces Reposado Tequila and .5 ounce Grand Marnier. Fill with ice, shake well and strain into a chilled cocktail glass. Top with a small splash of seltzer.
Ingredients:
1/4 cup fresh blueberries
1 ounce (2 tablespoons) fresh lime juice
4 ounces (1/2 cup) Reposado or Añejo tequila
1 1/2 ounces (3 tablespoons) simple syrup
Few dashes orange bitters
Ice
Kosher or sea salt for rimming the glass
Rub the rim of two rocks or margarita glasses with a lime wedge. Swirl the rims through a small pile of kosher or sea salt to salt them. Add ice cubes to the glasses. In a cocktail shaker, muddle the blueberries and lime juice until the blueberries are pulverized. Add the tequila, simple syrup, bitters, and a handful of ice to the shaker. Add a leftover rind or two from the limes. Shake vigorously for 15 seconds, and then strain into the salted glasses.
Read More: Try These 5 Great Margarita Recipes
Ingredients:
2 ounces tequila
1 ounce fresh lime juice
3⁄4 ounce agave nectar
12 cilantro leaves, plus 1 sprig for garnish
1 (1⁄4") piece of a Fresno chili pepper, plus 2 rings for garnish
Muddle tequila, lime juice, agave, cilantro leaves, and ¼" piece of chili in a cocktail shaker. Add ice and shake vigorously; strain into a rocks glass filled with ice. Garnish with cilantro sprig and chili rings.
Ingredients:
2 ounces mescal
2 fresh orange slices
2 maraschino cherries
1⁄2 ounce diluted agave syrup (1 part syrup, 1 part water)
Angostura bitters

Club soda
Muddle mescal, orange slices, cherries, and syrup in a cocktail shaker. Add a dash of bitters. Shake, strain, and pour over ice. Top with a splash of soda.
Read More: 3 Must-Try Anejo Cocktails
BONUS: Make Your Own Salsa
Roasted Fresh Chili Salsa (Salsa de Chili Fresco Asado)
Ingredients:
4 ounces fresh hot green chilis (about 4 medium jalapeños, 16 medium serranos, 2 medium hot banana/Hungarian wax, or 12 medium green or yellow-orange habaneros — really any small hot chili)
4 garlic cloves, peeled
2 tablespoons fresh lime juice
Salt
Turn on the broiler and adjust the rack to its highest level. Break the stems off the chilis, cut them in half lengthwise, and lay them, cut-side down, on a baking sheet. Sprinkle the garlic cloves among the chilis. Slide under the broiler and roast until the chilis are soft and blotchy black in places, about a minute or two. Scrape into a blender or food processor and add the lime juice and 1/4 cup water. Process until nearly smooth. Pour into a salsa dish and thin with a little additional water if necessary to give the salsa an easily spoonable consistency. Taste (cautiously) and season with salt, usually about 1/2 teaspoon. Cover and refrigerate (for up to 5 days) if not using right away.