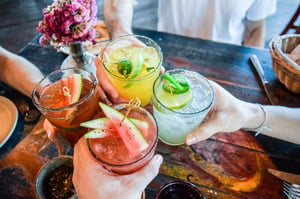 You don't have to wait for Cinco de Mayo or National Margarita Day (February 22) to celebrate in true margarita fashion.
While margarita-making is the obvious choice for celebrating May 5th and the anniversary of the Mexican Army's victory over the French, this quintessential Mexican drink is too good to leave to only a couple occasions per year. And there are many options beyond the traditional margarita recipe.
A Word About Tequila
One of the reasons margaritas are so good is that this cocktail is built on simplicity, good ingredients, and balance. To authentically enjoy a margarita, one must appreciate tequila – a distilled spirit made from the blue agave plant in the Mexican city of and near Tequila (yes, it's a place).
There are 200 types of agaves found in Mexico, and they are classified much like fine wines. Tequila that is labeled 100% de Agave can only be bottled in Mexico. It refers to being made from the blue agave plant and does not have added sugars. Mix to refers to tequila that is made with blue agave plus non-agave sugars such as sugar cane. These are usually simply labeled Tequila.
Types of Tequila
Blanco or Silver – Spanish for the word "white," this is transparent and aged less than two months.
Joven or Gold – Basically the same as Blanco or Silver but with added coloring and flavoring.
Reposado – Spent two months to a year in an oak barrel or cask.
Añejo – It's been aged and oaked for one to three years. Nice sipping tequila.
Extra Añejo – Aged in oak at least three years, these are the best sipping tequilas.
Choose Your Ingredients Carefully
To elevate this classic drink, we recommend using good, high-quality tequila. While there may be disagreements about styles to use in mixed drinks, just follow your own palette and use what you like. We recommend reposado tequila.
For the orange liqueur, Caballero is incredible. Other good options include Cointreau and Grand Marnier – but if you want to impress your friends (and enjoy this cocktail to the utmost) don't cut corners by using triple sec.
Make Haskell's Magnificent Classic Margarita Recipe
Ingredients:
2 to 2.5 oz. Reposado Tequila
1 oz. Orange Liqueur
1 to 1.5 oz. Lime juice
½ Orange
Supplies:
Cutting board
Knife
Cocktail strainer
Shaker
How to make a classic margarita:
Pour Kosher salt on a plate.
Rim cocktail glass with lime juice and dip rim into salt. Flip glass back over, set aside.
Fill cocktail shaker with ice, tequila, orange liqueur, lime, and juice from orange. Shake thoroughly.
Pour mixture into the salt-rimmed glass and add lime wedge or wheel to garnish.
2 Margarita Alternative Recipes for the Adventurous
Cucumber Jalapeño Margarita
Ingredients:
1/2 cup fresh lime juice
1/2 cup Blanco Tequila
1/4 cup orange liqueur, such as Grand Marnier
1/4 cup simple syrup
4 thin slices cucumber
1 jalapeño, halved lengthwise
Ice for serving
Salt for glass rims
How to make 4-6 Cucumber Jalapeño Margaritas:
Mix together the lime juice, tequila, orange liqueur, simple syrup, cucumber, and jalapeños in a large pitcher.
Chill for at least 1 hour. The longer the margarita sits, the more the cucumber and jalapeño flavors infuse into the drink.
When you're ready to serve, pour salt on a plate. Wet rims of glasses with a lime wedge and dip the glass rim into salt.
Pour mixture into glasses over ice, and enjoy!
Spicy Sriracha Margarita
Ingredients:
2 cups strawberries, hulled and chopped
1/2 cup Blanco Tequila
1/4 cup Cointreau (or other orange liquor)
1 tbsp. agave nectar
1/2 tsp. Sriracha sauce
2 cups ice
Sugar for glass rims
Lime for garnish
How to make 2-4 Spicy Sriracha Margaritas:
Add all ingredients to a blender, and blend until smooth.
Pour sugar on a plate. Wet rims of glasses with lime wedge, and dip glass rims in sugar.
Pour mixture into each glass over ice.
A Brief History of the Margarita
Who invented this tequila-rrific cocktail? Like so many things, there are quite a few claims to fame. We turned to the Smithsonian for their spin.
One story goes that in 1938, Carlos "Danny" Herrera (at his restaurant Rancho La Gloria, located between Tijuana and Rosarito) created the drink for customer and former Ziegfeld dancer, Marjorie King, who was allergic to many spirits, but not to tequila. Another tale says in 1948 a wealthy Dallas socialite by the name of Margarita Sames claimed to have whipped up the drink for friends at her Acapulco vacation. Armed with a bit of brief history and tequila knowledge, go out and confidently mix and relish your own margaritas all year round. To whoever concocted it first, we say, gracias!