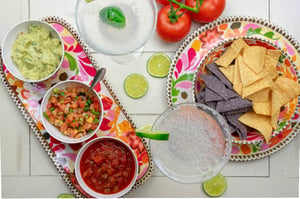 Food and drink are central to all the big holidays — including one of our favorites, Cinco de Mayo.
The instant someone mentions the holiday, you can't help but think of Cinco de Mayo margaritas, beergaritas, tequila, cocktails, tacos, salsa, and guacamole galore. Whether you're hosting a big fiesta with all your amigos or celebrating solo at home, here is your guide to Cinco de Mayo food and drinks.
Key In On Tequila
Let's start with a simple but important question: Is it even Cinco de Mayo if you don't have tequila on hand? Put down your Cinco de Mayo margarita for a bit and consider: What do you need to know about tequila to ensure your fiesta is properly fueled? Great question, multifaceted answer.
For starters, the five types of tequila are:
Blanco/Silver
Oro/Gold
Reposado
Añejo
Extra Añejo
Depending on what cocktails you're making, or if you'll drink it straight, you'll want different tequilas on hand. Read more on different tequilas for different uses.
Cinco de Mayo Margaritas
Speaking of cocktails and tequila on hand, you'll need a trusty recipe for Cinco de Mayo margaritas. We offer you this classic recipe plus two adapted versions (mango and tangerine mint) to best suit you and your guests.
Don't forget: The quality of tequila you choose will make your margaritas that much better.
Beyond the Margarita: Other Cinco de Mayo Cocktails
You may be looking for a little more adventure this year. If that's the case, consider a few alternatives to the classic Cinco de Mayo margarita with these festive drinks:
Paloma
Tequila Daisy
Blueberry Margarita
Picante de la Casa
Oaxaca Old Fashioned
More in the mood for beer with a twist? We've got you covered with this ultimate beergarita recipe.
Cinco de Mayo Salsa and Guacamole Recipes
Now that you're all set on the beverage front, let's get your munchies in order. Kick your Cinco de Mayo into gear using these three classic snack recipes:
Fresh Salsa Recipe
Soak 1/2 cup chopped white onion in cold water for 15 minutes, then drain.
Toss onion with 3 diced tomatoes, 1 diced seeded jalapeño, 1 minced garlic clove, and 1/3 cup chopped cilantro.
Add lime juice and salt to taste.
Salsa Verde Recipe
Toss 1 pound husked tomatillos, 1 jalapeño, and 2 unpeeled garlic cloves with olive oil and salt.
Broil until charred, then let it cool.
Peel the garlic and purée it with the tomatillos, jalapeño, 2 scallions, and 1/2 cup cilantro.
Add lime juice and salt to taste.
Chunky Guacamole Recipe
Mash 3 avocados.
Stir in 1/4 cup diced white onion, 1/2 cup diced plum tomato, 1/2 cup chopped cilantro, and 1 diced seeded jalapeño.
Add lime juice and salt to taste.
Need more ideas to pair with your Cinco de Mayo margaritas? We don't blame you; it's only right to be prepared with a serious spread for snacking. Start with these recipes and go down the rabbit hole of Cinco de Mayo munchies.
Let the fiesta begin!