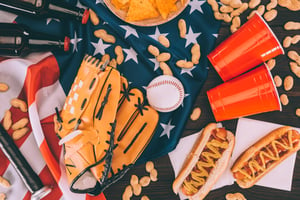 East Coast vs. West Coast. Fenway Frank vs. Dodger Dog. Chris Sale vs. Clayton Kershaw.
The battle for Major League Baseball's championship is set, with the Boston Red Sox taking on the Los Angeles Dodgers in the 114th World Series. And what better way to celebrate than with food and drinks? No matter who you're rooting for, here are some great baseball brews and fan food to make you feel like you're at the game.
Recipes That Will Rock Your Sox Off
The Boston Red Sox defeated the Houston Astros, the defending champions, four games to one to win the American League title. After ending the regular season with a 108-54 record, it's easy to see how they made their way to the top. Of the 12 times the Boston Red Sox have made it to the World Series, they've won eight championships — the last being against the St. Louis Cardinals in 2013.
To show your Red Sox pride, crack open one of these Massachusetts-native brews:
Sam Adams Rebel IPA

– As the official beer of Fenway Park, we had to choose a Sam Adams beer. Brewed with five varieties of hops, this IPA features citrus and grapefruit flavors with subtle pine notes.
Clown Shoes Brown Angel

– This craft brewery in Ipswich, Massachusetts, creates brews just as unique as their name. Brown Angel is a double brown ale layered with malt, intense hops, and a floral finish.
Clown Shoes Date Night Saison

– This beer uses a classic Belgian yeast strain and dry hops to make a refreshing Saison with a twist.
Not a beer fan? Don't worry! Here are some cocktails inspired by the team.
2 oz. whiskey
1 cherry
1 lemon's juice
1 egg (egg white)
powdered sugar to taste
Remove the cherry pit and muddle it in a glass. Set aside. Add whiskey, lemon juice, egg white, and powdered sugar to a shaker with ice. Shake. Pour into the glass with the muddled cherry.
2 oz. of white rum
1 oz. fresh lemon juice
1 tsp. powdered sugar
4 oz. club soda
In a collins glass, stir lemon juice, sugar, and club soda. Fill the glass with ice. Add rum. Then, top with club soda, and stir.
Don't forget the food! Here are two recipes sure to make you feel like a Bostonian.
New England Lobster Roll
Nothing says Massachusetts like a lobster roll. While this isn't likely the first dish that popped into your head when you thought baseball food, it's a tasty treat to celebrate the Boston area.
Boston Baked Beans
Did you know Boston Baked Beans got that name because of the molasses used in the recipe? In colonial days, Boston was a trade center for rum from the Caribbean, and rum is made using molasses. Or how about the Boston Molasses Disaster of 1919, when the thick, gooey substance flooded the streets after a tank exploded.
Can't Dodge These Tasty Creations
The Los Angeles Dodgers will return to the World Series for the second year in a row. Last year, the Dodgers were defeated by the Houston Astros in the seventh games of the Series. This year, they defeated the Milwaukee Brewers in seven games to earn their shot at the title.
The last time these two teams battled in a World Series was in 1916, when the Dodgers belonged to Brooklyn and were known as the Brooklyn Robins and Babe Ruth pitched 13 shutout innings for the Red Sox. In that series, Boston defeated Brooklyn four games to one.
Raise a bottle to your favored pick with these California-based brews:
If you prefer hard alcohol to beer. Try these Dodger-inspired cocktails.
You may be wondering what a Jim Beam and soda have to do with the LA Dodgers. Well, Jim Beam is the official Whiskey of the Dodgers. And, according to Los Angeles Magazine, this cocktail can even be purchased from a vending machine at Dodger stadium.
2 parts Jim Bean
4 parts soda water
1 slice lemon for garnish
Fill a rocks glass with ice. Add Jim Beam and soda water. Garnish with lemon.
Another popular cocktail at Dodger Stadium is the Michelada. We'll let the recipe do all the explaining.
1/4 cup kosher salt
1 tsp. chili powder
1 lime's juice
1 lime wedge
2 cups ice
3 oz. tomato juice
4 dashes hot sauce
4 dashes Worcestershire sauce
12 oz. chilled Mexican beer
Mix salt and chili powder on a plate. Wet the rim of the glass with the lime wedge. Dip rim of glass in the mixture. Fill glass with ice. Pour lime juice, tomato juice, hot sauce, Worcestershire sauce, and beer in glass. Stir. Garnish with a lime wedge.
Of course, baseball and food go hand-in-hand. So, here is some ballpark food to try at home.
Doyer Dog
It may not be the same as having a Dodger Dog at the stadium, but a home-made Doyer Dog, inspired by the Dodgers' specialty hot dog, will be perfect for game 1 or 7 of the series.
Carne Asada Fries
Nothing could possibly go better with your Doyer Dog than some Carne Asada Fries, a California specialty. You'll have the best fan food of anyone watching from home with this pairing.
So, whether you're rooting for our old teammate Brian Dozier and the LA Dodgers or the highly ranked Boston Red Sox, you're sure to enjoy the game with these drinks and dishes.