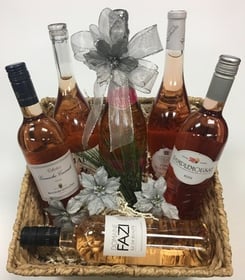 Holiday gift giving is easy when wine lovers are on your list. From wine accessories, to the wine itself, there's a lot on the market for wineos this holiday season. At Haskell's, we have a lot of gift options—stocking stuffers, holiday baskets, and special bottles that will delight just about any taste preference. And, the best news is these gifts won't leave you with a dent in your debit card.
We have a big selection, but will try not to overwhelm you. Since good things come in pairs, we decided to share a couple of items from each gift "category." So here they are—just in time for our annual Haskell's Holiday Sale.
Two Must-Have Wine Accessories
Double-hinged waiters corkscrews - These are always in style and make opening a bottle of wine easy. There's a reason waiters worldwide turn to this style of wine opener. It's classic. It's dependable, and only $9.99 at any of our Haskell's stores.
Reidel wine decanter - This Austrian wine glass company is known for its excellence. You can't go wrong with Reidel stemware or glasses.
Plus, we have myriads of wine gift bags, charms, wine savers and stoppers, wine pours and more, all ready to be wrapped or stuffed into a special holiday stocking.
Two elegant gift baskets
A Bouquet of Rosè - Six bottles of French rosè wines including:
Mado en Provence
L'Opale de la Presqu'ile de Saint Tropez
Domaine de Fazi
Bouchard Pere et Fils
Silver Cap Brut Rose
Pamplemousse 'Pamp Fizz
Nightcap Basket - A bottle of Quinta do Noval Black Ruby Port nestled in a basket with a bottle of Castille VS Armagnac.
Two Bottles of Bubbly
Veuve Clicquot Brut - One of the most famous champagnes in the world is now on sale. It's a perfect holiday gift for someone special, or for a special occasion.
Piper Heidsieck Brut -

Enjoy this classic, structured, full-bodied and bursting with fruit Champagne.
Buy One Get One Deal
Rosso di Montalcino by il Poggione - Enjoy this smooth Italian red with pasta that has meat sauce, roasted and grilled meats, and cheese.
Tobias Chardonnay - Fruity, delicious, and just a hint of French Oak. It's a favorite and you'll want to be sure this is on your list. Buy one as a gift, and keep one for yourself.
Can't decide? A Haskell's gift card is always a great backup. We make it easy — use it to shop online or in store.