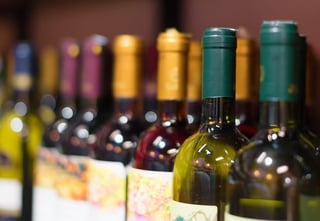 When it comes to wine, it's all about versatility. It can be complex, simple, sophisticated or affordable – no matter your favorite blend. It's also been around since basically forever. Wines have been enjoyed by humankind for thousands of years (archaeologists found evidence in Georgia dated to circa 6000 BC), and now in the 21st century we can marvel at the thousands of wines available to sip and swirl on any given day. There are red, white, rose, sparkling and more than 10,000 types of wine grapes around the world. So, where does one even start? No worries. We have Jack Farrell and the entire Haskell's team of wine experts to help.


Haskell's currently has

1,980

different wines available for sale online! But don't be intimidated by our massive selection. We have plenty of w

ine for beginners.

Jack

Farrell

has been traveling the world to bring you the very best wines for 45 years. Now, he's put together a list of his favorites in the newly premiered Haskell's Hundred.

Jack's top five recommendations:
Domaine Pontifical Chateauneuf du Pape 2012
The 2011 flows with fruit-forward notes of cherries, blackberry and a hint of leather. Silky tannins and a great balance between fruit and acidity create this medium-bodied, fresh and elegantly plump cuvée that is drinking perfectly at the moment but will also drink very well over the next four to five years.
Henri de Villamont Volnay Cuvee Blondeau 2012
This delightful Pinot Noir stands out among the other wines of the Côte de Beaune like the lipstick imprint of a kiss. It is structured yet silken, fresh yet mellow, bright yet balanced. The color varies from bright ruby to a light garnet with aromas of gooseberry, cherry and a hint of fresh cut violets. The palate offers fresh, warm and inviting flavors of cloves, prune and cherry.
In the early 1970s, Edmond de Rothschild, who already held a stake in Château Lafite-Rothschild, decided he wanted to purchase another estate in the Médoc region of Bordeaux. Thus was born Chateau Clarke. The 2010, a blend of 70% Merlot and 30% Cabernet, boasts a crimson and dark purple hue with fresh notes of licorice, currant, vanilla and clove alongside velvety yet subtle tannins.
This 100% Merlot is full-bodied with great structure and elegance. It is well-balanced and harmonic with a great freshness and maturity surrounded by velvety tannins. You will find a lingering and intense aromatic finish with flavors of plums and a hint of balsamic. This wine begs to be paired with prime rib or filet.
Tobias Napa Cabernet Sauvignon 2013
It's bursting nose of ripe blackberry jam, mild oak, vanilla and licorice will first capture your attention. Then several layers of lush, summer fruit unfold, it is creamy and soft, yet very clean. The character and distinctive flavor of this wine represents Napa Valley classic Cabernet. "Full of fruit, up front and very well balanced from start to finish." - Tobias Forman, winemaker
Once you've tried all of these wines, feel free to tackle Jack's Haskell's Hundred list for more wine recommendations. You can order wine online, and we can deliver, too!