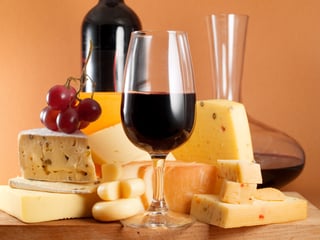 Spring has sprung and the white wines are flowing. And, white wines, for the most part, pair beautifully with a wide array of cheeses. So, what's a host to do? Have a wine and cheese pairing party, of course. We also say pears and apples make a great addition to these cheese plates — and don't forget the bread. For the French, wine, cheese, and bread are considered the "Holy Trinity."
Tips for perfect wine and cheese pairings
Match acidity
Cheeses with acid like wines with acid.
Match power
Big cheeses need a big wine.
Salt and sugar
Sweetness in wine counter-balances and complements the acidity and saltiness of cheese.
Basic Notes to create mouthwatering wine and cheese pairings
Cheddar
An oaky Chardonnay or Burgundy.
Camembert
Full-bodied oaky Chardonnay or Viognier.
Gorgonzola
It's high in acidity so you will want a wine with high acidity, as well. Enjoy with dessert wines like an Italian Moscato.
Fresh Mozzarella, Chevre (or goat cheese)
Pinto Grigio, (also known as Pinot Gris) is light, crisp and quite food friendly.
Here are some tips for success for your wine and cheese pairing party.
Slate serving boards
Consider picking up slate tiles for each piece of cheese. Use chalk to write the names of the cheese, or uses note cards.
Cheese knives
Each cheese gets its own knife to prevent mixing flavors. Don't have a set of cheese knives? Butter or paring knives are perfect.
Wineglass labels
Help guests keep track of their glass with wine charms. Or use a Sharpie to write their name on the wine glass — it washes off with soap and water.
Water - Nonalcoholic options
Water, water everywhere. Keep everyone hydrated and ensure there is water and nonalcoholic drinks available.
Cheese Leftovers
Wrap your leftover cheese in wax paper, then follow with a layer of plastic wrap. Use a plastic container if needed. All that cheese will make an amazing macaroni and cheese bake!
You won't have to go far to find the perfect cheese along with the perfect wines for your pairing party. Haskell's Big Cheese has two locations and can also deliver: Downtown Minneapolis and on Ford Parkway in St. Paul. We offer a wide array of imported cheeses, pates, wonderful French breads, rolls, croissants, and bagels.