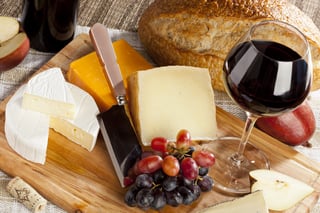 Didn't get the summer vacation you hoped? For under $50, our wine picks can help transport you to France, Spain or Italy — and you won't even have to leave your home. Uncorking a bottle unleashes an adventure around the globe. Geography plays such a vital role in the experience of drinking wine. In an instant, you can be whisked away to the Rhone Valley or Iberian Peninsula. Drinking these wines all represent their geography very well. And they are great additions to a wine cellar! So, here are our best wine picks under $50 (plus a few good pairing ideas):
France
There are three major regions for red wine are Bordeaux, Burgundy, and the Rhone. Let's visit with a couple of picks from each of those beautiful and abundant regions.
From Bordeaux: This large wine-producing region sits on the Atlantic Coast of France.
Red Burgundy: We head to the eastern region of France where the red Burgundies are made from Pinot Noir grapes.
Rhone Valley: Let's head to southern France now.
Italy
Let's head to some of the oldest wine producing regions in the world, where food and wine are a passion.

USA
If you've been California dreaming, here are a couple of wines you'll want to pick up ASAP.
Tobias Cabernet Sauvignon 2011
We have this extraordinary wine available right now with great savings. Pick up a case now and thank us later. Juicy. Medium-bodied. Roast beef or a file mignon work well.

Spain
Nearly 3-million acres of land are planted with wine-producing grapes. Imagine rolling hills of vineyards.





All of these wonderful wines can be found starting at $20, and none of them more than $50. Best yet, they can all be delivered right to your door in as little as 20 minutes, so you can begin your armchair vacation right away.
Founded in 1934, Haskell's has championed fine wines for over 80 years. We have 13 wine stores in Minnesota, two delis and one restaurant. As one of the top wine shops in North America, Haskell's is known for legendary service and one of the finest collections of wine, beer and spirits. Led by Chairman and CEO Jack Farrell, and the Farrell family, Haskell's continues to be at the forefront of the wine scene throughout the world. Haskell's also can ship wine, beer & spirits all throughout the world, the U.S. and we deliver locally.