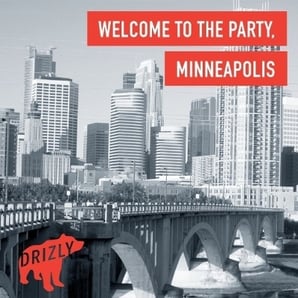 When you want wine delivery, why wait? When you want craft beer delivery, why not let your fingers do the walking? On-demand alcohol delivery is now a thing. There's an app for that!
So, what does a Boston-based tech company have to do with your next beer run? It could be key to making your life a little easier the next time you want your favorite craft beer or a bottle or two of your favorite wine. It's Drizly and we at Haskell's Wine & Spirits are quite proud to offer folks in the Twin Cities metro the option of using this fast, easy, online ordering and delivery service. And, it's pretty cool.
How does it work?
First, you need to be of legal drinking age. Second, you need to have an online or mobile connection – via smartphone, tablet or desktop.
Download the app
Order beer or wine from about 3,000 items in stock
Delivery expected in less than an hour
Minimum order is $20
Need a bottle of tonic with your favorite brand of vodka? Check. How about ice? Check. Limes? Yup. You can order those too. Cherries for your Manhattan? Sure. You can order the alcohol along with garnishes, mixers, ice, sodas, energy drinks, bitters – whew. When we said 3,000, we meant it.
Buy Wine, Beer, Spirits and More Here!
Don't worry if it IS last minute. Put in an order and have it delivered without breaking a sweat. Or schedule a delivery so you can worry about other things like enjoying the last days of summer.
How to download Drizly
For now, we deliver in the Minneapolis, St. Paul, Bloomington, Minnetonka, Edina, St. Louis Park, Wayzata, Richfield and Mendota Heights.
Delivering your favorite beer or wine isn't a new idea for us. In fact, we have been delivering since 1934. Now, it's just a new way to bridge technology with beer.
Of course, we always want to see you in person. Stop in and visit us soon at any of our Haskell's locations.
Founded in 1934, Haskell's has championed fine wines for over 80 years. We have 13 wine stores in Minnesota, two delis and one restaurant. As one of the top wine shops in North America, Haskell's is known for legendary service and one of the finest collections of wine, beer and spirits. Led by Chairman and CEO Jack Farrell, and the Farrell family, Haskell's continues to be at the forefront of the wine scene throughout the world. Haskell's also can ship wine, beer & spirits all throughout the world, the U.S. and we deliver locally.