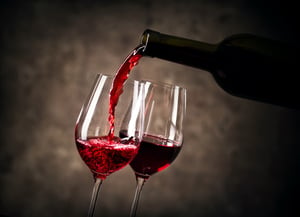 It may sound like the name of your spunky aunt, but it's actually delicious wine (or two). Syrah and Shiraz are full of flavor and best enjoyed when you get to know them a little bit.
You may have heard of Syrah and Shiraz, but what exactly are they, and how are they different?
An Introduction to the Syrah/Shiraz Grape
Just like other grape varietals, such as Pinot Grigio and Pinot Gris, Syrah and Shiraz are the same grape but have slightly different names because they make for different wines. (Remember terroir?)
Syrah is the name of the grapes and corresponding wines coming from France, so this is an Old World wine. Sometimes Syrah is produced in places besides France. However, in Australia – and a few other places considered by the wine community to be New World, like South Africa, Argentina, and the United States – it's called Shiraz.
The Syrah/Shiraz grape carries flavors of jammy fruits like blackberry, black cherry, blueberry, and boysenberry.
(Ever heard of Petite Sirah? That's an entirely different grape and different wines.)
What Syrah and Shiraz Wines Taste Like
Along with the big, jammy fruit flavors in the Syrah/Shiraz grape, these wines carry a variety of tasting notes as different as rich black olive, licorice, chocolate, and velvety smoothness. Think of Syrah and Shiraz as a family of very big body, full, red wines.
In general, Syrah wines will offer more tartness with the jammy fruit, as well as higher tannin texture.
Many Shiraz wines offer the big, ripe fruit profile with a bit of that peppery spice – especially in the finish.
Best Food Pairings with Syrah Wine
With the bold flavors of Syrah wine, it's a great fit for big food flavors. If you want to keep with the French origin of Syrah, add some herbs like fennel, thyme, and lavender to your meat and vegetable dishes to compete with the intense, inky wine. Fatty, earthy cheeses will provide strong funk factor to interact with the luscious wine.
Roasted lamb and oiled, salted, and roasted potatoes make for a full plate of satisfying sustenance to let the Syrah's fruity notes shine.
Also, note that the Syrah wine you may find from France and beyond can range a little higher in price because of their Old World prestige. But don't let that scare you off. These are some rich, incredible wines that every wine drinker should try every so often.
Top Food Pairings with Shiraz Wine
If you're drinking Australian Shiraz, why not also "put another shrimp on the barbie"? Fire up that grill, and go even further than smoky seafood. Concoct a peppery spiced barbecue sauce to slather on chicken going on the grill, or make a marinade of rich olive oil, lots of garlic and pepper, all drenching vegetables including zucchini, green peppers, and onions.
Feeling brave? Use anise and clove to accentuate the nuances of dark spice and chocolate tones in Shiraz wine.
With so many interesting and big, bold flavors to enjoy, stop reading and pick up some Syrah or Shiraz at Haskell's already. We'll help you find the perfect wine for whatever occasion.