Bubby Recommendations for New Year's Eve
Did you know that the tradition of celebrating the New Year with sparkling wine dates all the way back to fifth century France?

That's when French kings were first crowned in Reims, in the heart of the Champagne region, and sparkling wines were first linked to celebrations. By the end of the 17th century, the famous monk Dom Perignon improved the quality of his abbey's vineyards and wines, and created a way to plug the bottles with cork – paving the way for shipping and mass consumption. By the 19th century it became widely distributed as a beverage for special occasions, from weddings to ship christenings – to ringing in the New Year.

Now we are able to enjoy sparkling wines from many different regions, with many different flavors, from dry to sweet. So, we've put together a list of sparkling wine recommendations to match any palate, and any budget.

Casa Farrelli Prosecco
A dry sparkling wine from the Veneto region in northeast Italy. This is Prosecco has a light, delicate flavor and is a great choice for sparkling wine-based drinks like bellinis and mimosas. $9.99
Silver Cap 'Grand Cuvee' Blanc de Blancs Brut
Literally 'white from whites', blanc de blancs brut is made from light-skinned Chardonnay grapes. This sparkling wine has maximum finesse, lightness and elegance. $9.99

Silver Cap 'Grand Cuvee' Brut Rose
Our rosé is blended from Cabernet Franc, Cabernet Sauvignon, Cinsault and Sciaccarellu (a Corsican varietal). The grapes undergo a slow press to allow the juice to obtain the brilliant color that makes Silver Cap Rosé dazzle. $9.99
A sparkling white from Piedmont, Italy, its delicately sweet flavor is typical of Moscato. This is the classic sparkling wine to round off a meal, served with desserts and fruit. $11.99

Louis Bouillot Brut Rose
A salmon pink sparkling rose with fine bubbles from the Burgundy region in Eastern France. Fruity notes are mixed with a nice acidity that follows the taste until the end. $13.99
A dry, sparkling wine from Champagne with notes of citrus, ginger, vanilla and white chocolate. $29.99

Lete-Vautrain Grand Reserve Traditionnel Brut
A traditional Brut Cuvée Champagne that can be served as an aperitif or with white meat or fish. It has a very balanced flavor, with intense notes of apple and peach. $34.99
Lete-Vautrain Grand Reserve Traditionnel Brut Rose Dolores
A Royal Rosé Brut with a floral nose. The fleshy and fruity mouth is characterized by delicate notes of raspberry and wild strawberry. $39.99
The Special Cuvee is the most accomplished expression of the Bollinger style. The house's entire know-how is revealed in its ability to recreate, year after year, a blend that is constant in style and quality, and to recompose this bouquet of aromas, this unique combination of body, balance, vinosity and finesse. $54.99
The signature vintage from France's largest Champagne house, Moët et Chandon. In addition to the exclusive use of Pinot Noir and Chardonnay grapes from only the finest growths and vineyards, Dom Pérignon strictly limits itself to wines of the very best years, which have undergone long ageing. $139.99
Elegant, deep, and silky-textured, this medium to full-bodied beauty is immensely concentrated, pure, packed with apple flavors, and astoundingly long in the finish. Vintage Cristal is the standard-bearer for the House of Louis Roederer. It is blended from 55% Pinot Noir and 45% Chardonnay, grown in the best vineyards of Verzenay, Le Mesnil, Avize, Chouilly, Verzy, Ay and Mareuil. $199.99
Drop by a Haskell's Minnesota wine store where our team of experts is ready to help you select the perfect sparkling wine for your New Year's celebration. If you're playing host for a New Year's celebration, here are some of our tips for pairing food with wine.
Here's to a wonderful 2015 – we wish you good times and happiness!
*Prices above good through Jan. 17, 2015.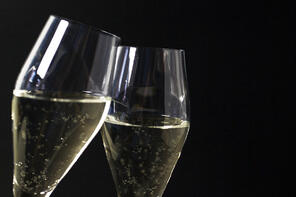 Founded in 1934, Haskell's has championed fine wines for over 80 years. We have 13 wine stores in Minnesota, two delis and one restaurant. As one of the top wine shops in North America, Haskell's is known for legendary service and one of the finest collections of wine, beer and spirits. Led by Chairman and CEO Jack Farrell, and the Farrell family, Haskell's continues to be at the forefront of the wine scene throughout the world. Haskell's also can ship wine, beer & spirits all throughout the world, the U.S. and we deliver locally.