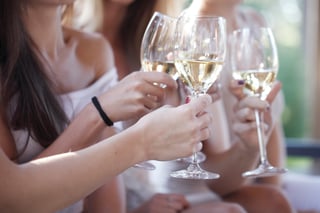 Did you know that May 25 is National Wine Day? If you need a few reasons to enjoy sipping your favorite glass of wine, we are happy to oblige. And, yes, there was already a National Drink Wine Day in February. But when the subject is drinking wine, is anybody going to complain about having two very similar days? So, if you'd like to celebrate, we have three sets of three to share with you about our favorite fermented grape beverage: wine.
Three Reasons to Celebrate National Wine Day
Hump Day – May 25th falls on a Wednesday this year. Toast!
Red wine has health benefits! The experts say so.
Have you ever seen anyone with a wine belly? Didn't think so.
Three Ways to Celebrate National Wine Day
Host a Happy Hour with Co-Workers
Enjoy some of your favorite colleagues on the back deck and pop open a few bottles of wine. Don't forget the snacks.
Date night.
Why wait until the weekend to ask that special someone out for a date? Pick up a bottle of Bordeaux, Cab or Zin, and a couple or Rib Eyes, and make National Wine Day about the two of you.
Three Fun Wine Facts for National Wine Day.
Archaeological evidence suggests wine making began in Mesopotamia and areas surrounding the Caspian Sea, sometime between 6000 and 4000 BCE.
Top wine producing states in the U.S. are California, Washington, New York, Oregon, and Pennsylvania.
According to Nielsen scan data, red wine is more popular than white in the United States – and of the reds, Cabernet Sauvignon is the most popular.
Whether you prefer a Cab or a Chardonnay, a Pinot Gris or a Pinot Noir, we have the right wine for you. Stop by any of our Haskell's Twin Cities metro stores and get ready for Wednesday. Cheers!