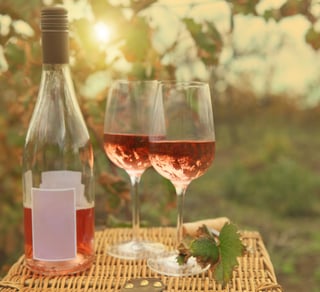 The popularity of rosé wine has recently skyrocketed around the world. Rosé wines are no longer the White Zinfandels everybody's grandmother loves. Rose wines now run the table from ultra-sweet to bone dry. And most do not cost very much either. Rosé wines do seem to suffer from seasonal neglect, but people are now discovering just how enjoyable they can be year round, especially in the Midwest, where we can always use a bright winter pick-me-up.
Get to Know Rosé
Despite the common misconception that rosé wine is just a mix of red and white wine, it is actually made the same way as red wine. The key difference is that the grapes are crushed lightly, so the wine takes on the right coloring with a lighter taste. Since all grape juice runs clear, rosé wines can be made from any type of red grape. The coloring only comes from contact with the skin of the grapes. The longer the grapes are left on the skin, the deeper the color will be and the more it will take on the tannic characteristics found in red wine.
The great thing about rosé is that it doesn't require aging. Once bottled, the wine is ready to drink. When it is fresh and new, rosé is at its best. Unlike most wines, rosé wines do not improve with age, so avoid trying to save your rosés. A good rule of thumb when exploring rosé wines is that old-world wine is less sweet and drier, and new world wine is a little sweeter or fruitier, particularly in this country. Some rosés, like White Zinfandel, are flavored with added sugars. So look for a rosé wine that is fresh, crisp and acidic, with no extra sugar that will bury the mineral content of the wine.
If you are on the hunt for a classic, dry rosé, look for any wine produced in France, particularly in the Tavel wine region or Loire Valley. You really can't go wrong with a French rosé. For those of you interested in unique flavors with a lot of character, try a Croatian rosé. A great option is a wine from Korta Katarina, which is a winery in Croatia that is owned by native Minnesotans.
Why Rosé is on the Rise
Rosé wines are not only inexpensive, but are also extremely food friendly. They lie between the extremes of red and white wine, allowing them to be both versatile and complimentary with a vast assortment of flavors. Rosé wines are a great choice for barbeques and picnics, afternoon parties and trips to the lake. They pair very well with most salads and are an excellent welcoming aperitif drink for your guests. Our savvy consumers are discovering more and more uses for rosé which explains why it is experiencing double digit growth in the industry. Rosé is on its way to becoming the new favorite go-to wine.
Suggestions:
A Haskell's favorite for years! Named after my wife, Mary Catherine Farrell. This one is slightly sweet.
Very dark and beautiful hue of dark pink. The wine is on the dry side and would pair well with a hearty salad.
New to Haskell's, this is Brad Pitt and Angelina Joli's new wine!

Founded in 1934, Haskell's has championed fine wines for over 80 years. With 13 wine stores in Minnesota, two delis and one restaurant. Haskell's ships throughout the U.S. and delivers locally. As one of the top wine shops in North America, Haskell's is known for legendary service and one of the finest collections of wine, beer and spirits. Led by Chairman and CEO Jack Farrell, and the Farrell family, Haskell's continues to be at the forefront of the wine scene throughout the world.