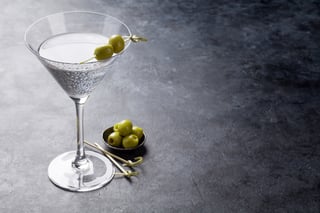 Interested in artisanal, organic or environmentally sustainable products? Then this blog's for you, especially if vodka is also on your interest list. Because organic vodka is on the rise.
Before we dig into the organics, let's look at the spirit.
Vodka - it's clear, often enjoyed in classic cocktails, and here in the U.S., it's the most consumed spirit, outpouring whiskey, gin, and rum. It wasn't until the 1950s that vodka found some American popularity with the Moscow Mule (yes, what's old is new again). In 2015, Americans drank nearly $6 BILLION dollars worth of vodka. The Distilled Spirits Council of U.S. say 68.2 million 9-liter cases of vodka were sold in the United States in 2015. That's a lot of vodka being consumed. And, that means adults have many more choices when it comes to the type of vodka they want to drink.
You'll notice many more vodka brands lining our shelves at Haskell's. That's because the industry has recognized the love affair we Americans have with vodka, as well as the fact that it can be made from a litany of distilled products including sorghum, corn, rice, rye or wheat, potatoes, grapes, or even sugar beets, molasses or soy beans. With all those ingredients out there being distilled and turned into vodka, quality varies. Potatoes, for instance, grown in the ground, have been used for centuries to make vodka. Premium vodkas made from grains are also at the top of the list. And, what goes into the ground, goes into the vodka. Getting us to the point. What's the difference between all these organic vodkas out there and regular ones?

Organic Vodkas to Drink Today
Prairie Organic Vodka - The labels says it all, Made in Minnesota, from the Heartland. A bright, clean tasting, grain-based vodka with distilled fermented corn, which also makes it gluten-free.
Prairie Organic Cucumber Vodka - Taste the freshness. Crafted a light flavor thats crisp and garden-fresh. Delivering an invigorating finish that truly pays homage to its roots.
Moon Mountain Vodka - Distilled in copper pots, this corn vodka hails from Indiana. And, is naturally gluten-free.
Rain Vodka - The critics love this premium white corn vodka, calling it superb. You be the judge. We'll help you find it.
Square One Cucumber Flavor Vodka - Enjoy a twist on the classic cocktails with this limited-production single grain vodka using certified organic American rye. Distilled in Northern California.
American Harvest Organic Spirit - Handcrafted in small batches from organic American wheat, certified organic ingredients and water from deep beneath the Snake River Plain. Smooth and silky spirit with a distinctive crisp, clean taste.
Thatchers Vodka - This small batch vodka is made using all natural ingredients and an entirely organic distillation process. This gives it a crisp and fresh taste, perfect on the rocks or in cocktails.
Death's Door Vodka - With 60:40 mix of organic wheat and organic malted barley, Deaths Door Vodka is triple-distilled and is smooth and rich with subtle notes of vanilla.
Organic Vodka vs. Regular Vodka
To be labeled organic, organic alcohol beverages must meet both Alcohol and Tobacco Tax and Trade Bureau (TTB) and USDA organic regulations which can be quite strict.
The USDA National Organic Standards prohibit the use of GMOs in all label categories ("100% organic," "organic," and "made with organic ingredients").
Organic certification verifies that ALL organic and non-organic ingredients and processing aids (including minor ingredients such as flavors, yeast, and cornstarch) were produced without the use of genetic engineering.
Organic certification prohibits farmers from using genetically modified seed and requires practices that prevent contact of organic crops with GMOs.
Annual onsite inspections verify these practices and include periodic residue testing for pesticides, GMOs, and other prohibited substances.
Willful violations of the USDA organic regulations can result in suspension of certification and civil penalties.
What it means to you.
Drinking organic vodka means you'll get your favorite alcoholic beverage sans pesticides and GMOs.