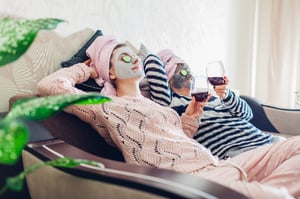 Moms are truly the best. Often times, they care for their family without ever expecting anything in return. And they love doing it! They're nurturing, kind, and oh-so-humble. So, this Mother's Day, do something a little extra to show your mom how much she means to you.
And we may have the perfect gift idea, a bouquet of rosé (and more). Your mom is sure to be impressed with these delectable gift baskets.
1. Sweet and Savory: For Food Lovers
I dare you to find a room full of mothers where the majority of hands don't go up when you offer this combination of flavors. Wine, chocolate, and cheese are features of any formal party or casual get-together for a reason: they effortlessly work well together.
Include a hearty goat cheese and nuts for a different twist on pairing — the freshness of Domaine de Fazi Rosé will mellow out the tanginess of the cheese. Or, you can go with green grapes and a sharp white cheddar, which is easily calmed by a delicately sweet rosé.
A little gourmet chocolate goes a long way, too. If your mom likes spice, find a dark chocolate with chili pepper and pair it with a quality, affordable wine like Rendez-vous Rosé from France . Alternatively, a creamy milk chocolate or almond-filled chocolate can offer a pleasant richness to wash down with the next glass of wine.
2. Self-Care in a Nutshell: For Relaxation and Comfort
Want to ensure your mom receives the care she often gives to others?
Create this basket of home spa practicality by gathering scented candles, a plush spa towel, calming herbal tea, lotion, bath salts/bath bomb/bubble bath, and for a soothing end to the evening, a bottle of Mado en Provence, an elegant and soft French rosé.
Step it up with a manicure/pedicure home set — or, even better, a gift certificate for a professional massage. This one will go far to celebrate mom.
3. Book and Beans: For Thinkers and (Coffee) Drinkers
If your mom had the time, would she spend it with her nose in a book, escaping to another world or exploring interesting intellectual territory that's outside her daily routine? Does she enjoy a cup of Joe each morning?
Put her interests into a basket. Find an entertaining or informative book, a bag of freshly roasted coffee beans, a mug, and a lap blanket for cozy reading.
4. The Kitchen is My Happy Place: For Food Lovers
Is mom a chef or a baker? It may not be an official position on her resume, but it's no small feat to provide and prepare food for a hungry family.
Set her up for even more success by giving a gift basket of well-made kitchen utensils she'd never buy for herself, colorful hot pads or oven mitts, a stylish apron, and a few fun and delicious recipes.
You know what she'll love with those new recipes? A bottle of fruity, fresh, and bright rosé like Second Growth's offering from Oregon.
You mom is bound to light up with love when she sees how much you appreciate her this Mother's Day. But don't just gift her a basket, plan a fun outing (like one of our boat cruises), too. It will be a day to remember for you and mom.