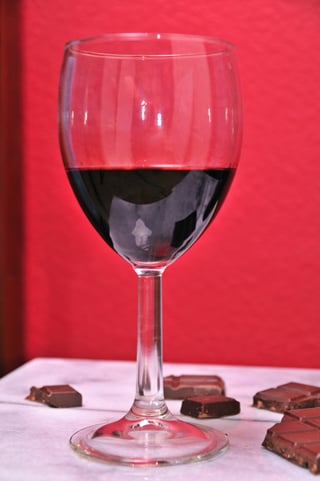 February is for lovers – of chocolate and wine. We all know they taste great together, but did you realize there's real science behind it? Both have concentrated sources of flavonoids (a class of polyphenol) that offer a number of health benefits (antioxidants, anti-inflammatory, heart-health benefits). Are we saying Valentines' Day is good for your heart? Is it a coincidence that the month of love celebrated with chocolate and wine is also National Heart Health Month? Research does indicate that chocolate and wine have heart health benefits, so naturally, pairing wine and chocolate just makes good sense.
Picking the right wine and the right chocolate can be tricky. Because wine and chocolate have so much in common, you want to be sure to be sure you find pairings that compliment rather than overpower. Here's what you need to know to find the perfect wine and chocolate pairing.
Guidelines to Consider

Sweetness
Wine should be as sweet or sweeter than the dessert. A dry red wine, for instance, with a very sweet chocolate, will taste bitter and unpleasant.
Texture
Match wines with soft, round tannins with smooth tasting chocolates
Body
Big, full-bodied wines match up with big, heavy chocolates.
Cocoa
The higher the cocoa content (dark chocolate contains a minimum of 35% cocoa solids), the fuller, more robust the wine.
Kinds of Chocolate

Like wine, there are many different types, grades, and flavors to chocolate. Let's go with the basics, and perhaps, you and your date and can experiment – with wines and chocolates this month.
White Chocolate
Fatty and buttery. Consider a Sherry or perhaps an Orange Muscat, Late Harvest or Ice Wine.
Milk Chocolate
Sweet and creamy. Consider a dessert wine, port, or even a light-bodied Pinot Noir or medium-bodied Merlot.
Dark Chocolate (and extra dark)
Often less sweet than milk chocolate. Try Cabernet Sauvignon, Merlot, Shiraz, Zinfandel, Malbec or a Banyuls.
And, what about that quintessential romantic favorite, the chocolate covered strawberry? Consider a rosé champagne. You want your wine (in this case, bubbly) to have a sweet note to complement this romantic treat, plus it's romantic, right?

Just remember, sweet for your sweets and you will be fine. Sweet chocolates, sweet wines, for a sweet heart indeed.
Founded in 1934, Haskell's has championed fine wines for over 80 years. We have 13 wine stores in Minnesota, two delis and one restaurant. As one of the top wine shops in North America, Haskell's is known for legendary service and one of the finest collections of wine, beer and spirits. Led by Chairman and CEO Jack Farrell, and the Farrell family, Haskell's continues to be at the forefront of the wine scene throughout the world. Haskell's also can ship wine, beer & spirits all throughout the world, the U.S. and we deliver locally.