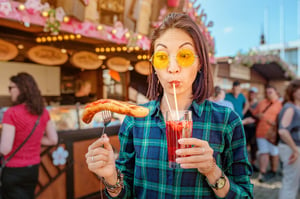 You know it's almost autumn in Minnesota – not by the changing colors of leaves or kids returning to school – but by the Minnesota State Fair excitement building all over. There are animals, the rides, the games, and don't forget the people-watching. There really is something for everybody, especially when it comes to food.
The Great Minnesota Get-Together runs from August 22-September 2, and let's face it: for many of us, it's just a ten-day window to eat and drink fun stuff that wouldn't feel quite right any other time of year. So, to get your juices flowing, we'll give you five fun food and wine (or beer) pairings that are uniquely Minnesota at our great State Fair.
Pro Tip: Take your foodie adventure to the next level by using the State Fair Food Finder, where you can filter by category and keywords to craft your own personalized menu for the Fair.
Cheese Curds
Show your respect for the classic state fair food group: deep-fried cheese in blissfully greasy, crunchy, satisfying splendor.
Pair with: Surly Brewing Onesie, Twosie LuLu Lucky IPA because Surly is a classic contemporary Minnesota brewery, and this hazy, juicy, tropical fruit IPA will bring a welcome, bright touch to the deep-fried fattiness.
Corn Roast
Another classic State Fair item that's no less praised even though cornfields blanket the state near and far.
Pair with: Sunset Rosé Wine by Parley Lake Winery because, just like corn on the cob, it's a kiss of summertime. The rosé offers flavors of strawberry, cranberry, and watermelon rind.
Corndogs
The standby for children (and their parents? and other adults?) all over the Fairgrounds. We won't get into the argument about Pronto Pups or Poncho Dogs, but we do know all corndogs seem to taste better at the Fair.
Pair with: Castle Danger Brewery's Orange Cream Ale for the combination of flavors that will take you back to your favorite childhood summers. Slightly orangey and sweet, slightly creamy mouthfeel will have you screaming with delight just like your younger days.
Bonus: Go deeper into deep-fried territory with a new food this year: Deep-Fried Dilly Dogs.
Fried Tacos On-a-Stick
How many different foods actually work on a stick? Well, you can be the judge of these taco variations from Taco Cat at the State Fair. The fried, stickified chorizo and potato taco, as well as the black bean and corn taco, will hit that savory note and finish with a fresh bit of guacamole salsa.
Pair with: Sociable Cider Werks Honey Bee Lavender Honey Mead for a semisweet, floral take on a beverage style that's not as common as cider, but might have you searching for more mead in the future.
Boozy Berries & 'Barb Trifle
It's high time for dessert, and this one's unlike the familiar old sugary donuts and cotton candy. Check it out: Vanilla pound cake, lemon curd, Cannon River Winery Gris wine and blueberry compote, Gris and rhubarb compote, topped with mint-infused whipped cream. This might be the fanciest dessert you'll have at the State Fair – and maybe all summer!
Pair with: An unpredictable but equally ambitious State Fair creation: the Mobster Mule Bubble Trouble. This pulls inspiration from cocktail mixing and uses Cannon River Winery sparkling Edelweiss wine, ginger beer, and lime to concoct a strange yet somehow familiar flavor palate. You'll find both of these only-at-the-Fair creations at the Hideaway Speakeasy in the upper level of the Grandstand.
Get to the Fair and get into this year's crazy, tasty food and drink choices!