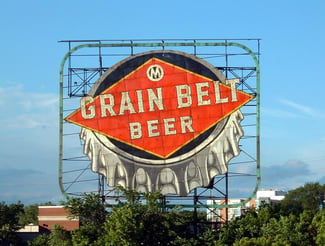 Anyone who has traveled over the Hennepin Avenue Bridge in Minneapolis has seen the iconic Grain Belt Beer sign. That landmark has been on Nicollet Island since the 1940s. It was constructed after the repeal of Prohibition and has been greeting visitors ever since, making it one of the most recognizable signs in the Twin Cities.
The storied history of that can of Grain Belt beer in your hand is rife with color, so grab a cold one and enjoy some trivia to share with your drinking buddies.
It's called legendary for a reason — Grain Belt beer has been brewing for more than 100 years, but it certainly hasn't been without its share of, well, mishaps, highs, lows, and changes.
In 1893, a major fire broke out in a Nicollet Island stable and took many homes, mills, lumberyards and portion of the new brewery, which was in its first year. The company's losses were reported to be $117,000.
During Prohibition, Grain Belt temporarily renamed itself Golden Grain Juice Company, and began selling "near beer" and juices.
Grain Belt Premium was introduced in the early 1950's to attract "a younger, more fickle consumer."
On June 24, 2001, Minnesota Brewing — which produced Grain Belt Beer – filed for bankruptcy and closed its doors.
A bit more than a year later, another legendary Minnesota company, August Schell Brewing Company, resurrected the brand.
The popular Nordeast beer was introduced in 2010 – named after the original Grain Belt Brewery neighborhood, Northeast Minneapolis.
The Grain Belt Brewery in Northeast Minneapolis is listed in the National Register of Historic Places.
The beers:
So, go ahead, grab a Grain Belt. Make it a 12-pack and taste the history.
And, if you are a history buff along with a beer enthusiast, you might enjoy this article on Pre-Prohibition American Breweries: A Midwestern View.
Founded in 1934, Haskell's has championed fine wines for over 80 years. We have 13 wine stores in Minnesota, two delis and one restaurant. As one of the top wine shops in North America, Haskell's is known for legendary service and one of the finest collections of wine, beer and spirits. Led by Chairman and CEO Jack Farrell, and the Farrell family, Haskell's continues to be at the forefront of the wine scene throughout the world. Haskell's also can ship wine, beer & spirits all throughout the world, the U.S. and we deliver locally.