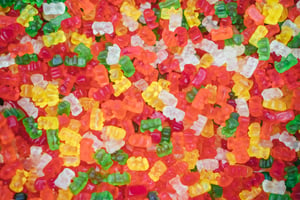 Seeing ghosts in your future? Hopefully — because fall is rounding the bend into everyone's favorite offbeat holiday: Halloween.
Usually, the teenagers get all the attention with their haunted house-themed school dances and children dress up to go door-to-door gathering candy. Well, we think it's time the adults have some fun, too!
Whether you're passing out candy or hosting a costume party, here are some recipes for liquor-infused candy.
There has to be a beer-themed candy, right? Yes, it's fall and there are so many seasonal brews to savor. But the question is, what kind of beer-themed candy is good enough to compete with the delicious simplicity of a cool pint?
Just thinking about rich fall brews, like a spiced Oktoberfest or nutty brown ale with a lingering sweetness, makes you thirsty enough to pick up a pack at the store. But go easy on the beer because you'll need a bottle or can of the brown ale to make these crunchy candy snacks.
Time: 1 hour 15 minutes
Ingredients (makes about 50 pieces):
How to make beer pretzel caramels:
Pour your choice of brown ale into a glass. Let sit until flat — this usually takes about one hour.
Cover an 8-inch square baking dish in a thin layer of butter.
Boil half of the beer (6 oz.) in a small saucepan over medium heat. Cook until reduced to 2 teaspoons (about 10 minutes).
Combine the remaining beer (6 oz.), brown sugar, corn syrup, cream, and butter in a large saucepan.
Bring to a boil over medium-high heat. Cook, stirring occasionally, until a candy thermometer reads 235 degrees Fahrenheit (about 10–12 minutes).
Remove from heat and stir in beer syrup and pretzels.
Spread mixture into the prepared dish and chill until firm (about one hour).
Cut into pieces and enjoy.
No fumbling with shallow glasses this time. Sounds silly, but these lollipops might be your new favorite way to enjoy classic margarita flavors when the summer weather is gone but your hankering for tequila isn't.
Bonus: At a Halloween party, grab an extra one to share before you sidle up to the nacho bar and use a spicy one-liner with the person you've been noticing across the room.
Time: 40 minutes
Ingredients (makes 5 lollipops):
1/4 cup and 1 tsp. tequila, divided — Try Jose Cuervo, Camarena Silver, or Patron Silver.
2 Tbsp. water
3/4 cup granulated sugar
3 Tbsp. corn syrup
1/2 tsp. orange zest
1 tsp. lime zest
1/8 tsp. salt
1/2 tsp. orange extract
5 lollipop sticks
How to make margarita lollipops:
Mix 1/4 cup tequila, water, sugar, and corn syrup in a saucepan.
Bring the mixture to a boil over medium-high heat, stirring occasionally.
Boil candy to 300 degrees Fahrenheit, without stirring. (Note: use a candy thermometer)
Combine the orange zest, lime zest, and salt.
When sugar mixture reaches 300 degrees Fahrenheit, remove from heat and use a wooden spoon to mix in the orange zest, lime zest, orange extract, and the remaining 1 teaspoon of tequila.
Pour into lollipop mold, on a silicone mat, or parchment paper. Make sure the lollipop stick is centered in each one.
Let lollipops harden.
What in the world will you use that gummy bear mold for? Turns out Halloween could be the perfect occasion.
It's true — gummy bears are not exactly the thrilling party candy guests are hunting for at the sweets table. But you can sneak up on them with the bursting flavor of white wine, red wine, or rosé with each mouthful.
Time: 1 hour 35 minutes
Ingredients (makes approximately 125 gummy bears):
1 cup wine (white, red, or rosé) — Try Newton Cabernet, Meiomi Chardonnay, or Spell Rosé.
1/2 cup sugar
3 Tbsp. powdered gelatin
1 drop of pink food coloring (if making rosé gummy bears)
2 or 3 gummy bear molds
How to make wine gummy bears:
Place the wine, sugar, and gelatin in a saucepan over medium-low heat. Note: if you want to keep the alcoholic content, keep this mixture below 90 degrees Fahrenheit.
Whisk for 2–3 minutes or until sugar and gelatin are dissolved. Note: For rosé gummy bears, stir in the pink food coloring.
Using a glass measuring cup with a spout, pour the mixture over the gummy bear molds.
Refrigerate for at least 90 minutes. Note: Bears will easily pop out from mold when the gelatin has set.
Let no bear go to waste. Store uneaten wine gummy bears in an airtight container in the refrigerator.
OK, adults — now you have no excuse not to channel your inner giddy trick-or-treat-self. Get busy and decide which of these liquor-infused candy recipes you'll make for years of Halloweens to come.