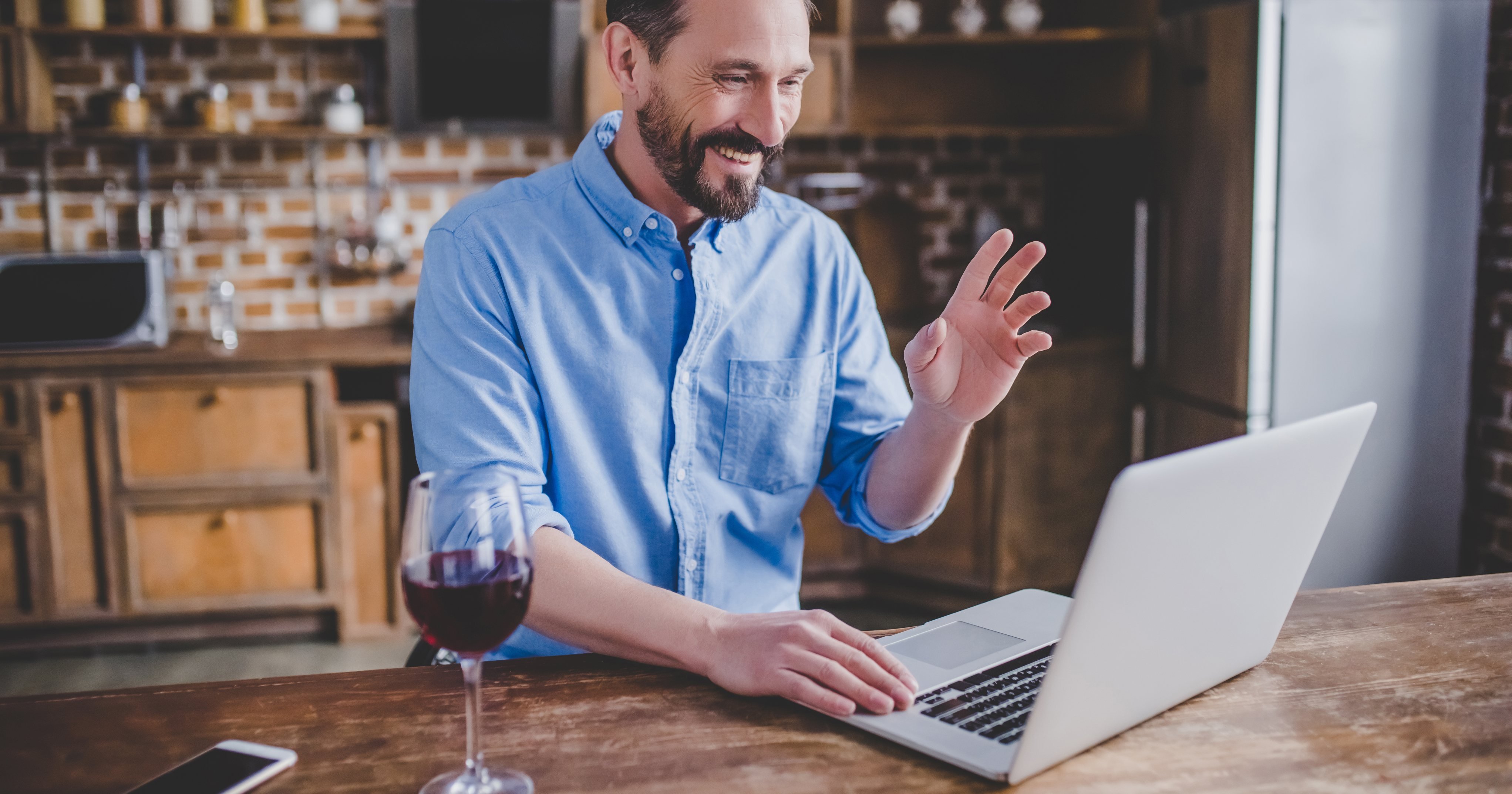 Happy hour might be a little less flashy during quarantine, but that doesn't mean you can't have a good time with your friends over drinks. You'll just have to get creative about how you enjoy it with your friends. Here's what you'll need to host the perfect virtual happy hour.
Host a Virtual Happy Hour During COVID-19
In times like these, seeing your friends can feel like a cause for celebration in itself – and without going out, teleconferencing is the next best thing to in-person. But before you're ready to kick back, you'll need:
A computer or smart device with a microphone. A camera is optional – but it makes the whole experience way more fun.
A teleconferencing service like Zoom or Skype. Skype has always been the go-to for video chat, and it works on just about every device. During COVID-19, Zoom stepped out of the corporate sphere to offer a free personal version for home use with fun features like custom backdrops.
Your friends. Gather 'round your work-from-home colleagues or the friends you haven't seen in weeks.
Your go-to beverage – or a new favorite. Even if you can't buy a round for the table, you can share the usual or get creative as a group. Check out our recommendations below.
The Best Drinks for a Virtual Happy Hour
Lucky for drinkers, many alcohol retailers have adapted quickly to the coronavirus quarantine. (Haskell's is even offering free pickup for all orders and delivery on orders over $100.) Your favorites are only a call or click away – or you can throw a new flavor into the mix for your virtual happy hour.
Go with a local beer. The Twin Cities has no shortage of unique beers, and many of their makers are still brewing for takeout. Check out this list to see which Minnesota breweries you can support during the COVID-19 crisis.
Try a great wine as the weather gets warmer. The seasons are changing – with or without the typical fun in the sun – so why not pour a wine to match? The Fog Mountain Sauvignon Blanc is a bright, crisp option, and the Bourgogne Pinot Noir Vienot and Fortant Rosé were some of our favorites of 2019.
Get creative with a happy hour cocktail. Go daring or play it safe with cocktail recipes to brighten up happy hour. To get you started, try a new spin on the classic old fashioned with Louisa's Liqueur:

Place 2 oz. Bourbon, 1/2 oz. Louisa's Liqueur, 1/4 oz. Demerara syrup, 1 dash Angostura bitters, orange peel garnish, and ice in a glass and stir. Strain the mixture into a rocks glass filled with ice. Express an orange peel over the glass and add as garnish.
Go Beyond the Bottle with Virtual Happy Hour Activities
For everything COVID-19 has kept us from doing, it's also forced us to get creative if we want to stay social. Here are a few ideas for taking advantage of isolation – together.
Turn happy hour into movie night. You know that movie you still haven't seen? The one everyone keeps bugging you to just watch already? Find it on your favorite streaming service and watch it with your friends on Discord, Netflix Party, or TogetherTube. (As a bonus, try a drinking game or enjoy themed drinks. Parasite and peach cocktails, anyone?)
Cook up something tasty together. Send everyone the same simple dinner recipe – something you still get ingredients for – and see whose comes out looking (and tasting) the best.
Try an online board game. Almost anything that can be played on a table can be played on a screen. Find the app versions of party favorites like UNO, Monopoly, and Clue or dig deep with tabletop RPGs for a few quick rounds with friends from home.
COVID-19 is keeping us apart from each other, but with a virtual happy hour, you can stay in touch with friends from the comfort of your home. Check out our online shop and take advantage of delivery specials today.