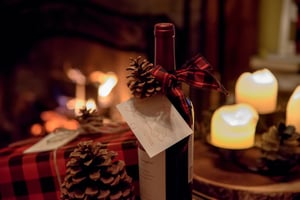 Tis the season for gatherings, food, wine, and gifts. So, if you're invited to a holiday party this year — whether it's hosted by your boss, best friend, or family member — bring a bottle of wine as a host/hostess gift.
You may be thinking, "I have no idea what kind of wine they like!" Don't worry, there are several types of wines that appeal to a large crowd with a variety of flavor preferences. Here are some of our favorites.
For the Celebratory Host-aholic: Champagne or Prosecco
Want to express your appreciation for those friends, family members, or generous acquaintances who always invite you over? Say it with sparkling wine.
For the Light Food and White Wine Lover: Sauvignon Blanc
You know the pescatarians, vegetarians, and omnivore friends who want that perfectly paired white wine with their meal? You'll make them more than happy with a Sauvignon Blanc, great anytime wine that pairs with many plant-based dishes, simple salads, fish, and other seafood.
For the Rich, Red-Seeking Carnivore: Pinot Noir
Known as a moderate and approachable red wine that is very versatile, Pinot Noir pairs with chicken, beef, pork, or rich vegetable dishes with savory sauces.
For the Adventurous Wine Taster
If you know your host/hostess is on the more adventurous side, tantalize their taste buds with these unique selections.
For the Personal Recommendation Approach
This one can be really hard or really easy. Pick up one of your favorite wines to give your host/hostess. But don't stop there — add a note explaining why it's your favorite, what memories you have with it, or even include a favorite dinner recipe to pair with the wine. This gift will be sure to stand out with such a personalized touch.