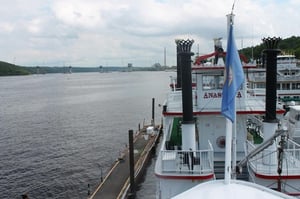 It's no longer news to say that Minnesota has risen to the ranks of serious wine and craft beer contenders. The people who work in the tasty beverages industry serve up so many great drinks with expansive knowledge that it can feel overwhelming to choose where to go and what drink to try.
Take the guesswork out of your beverage adventures by going to events that feature variety and offer some of the best things to fill your glass.
What's happening around the Twin Cities while the weather is oh-so Minnesota nice? Mark your calendars with your favorites from these fine options for events big and small this summer and fall.
Mezcal Seminar and Tasting
May 21, 2019
Haskell's, White Bear Lake, Minnesota
Price: $10
Join mezcal expert Arik Torren of Fidencio Mezcal to learn about the ins and outs of this misunderstood spirit, featuring Fidencio and La Venenosa Craft Mezcals. Save your spot at this limited event.
Minnesota Cider Festival
Saturday, June 8, 2019
Como Lakeside Pavilion, St Paul, Minnesota
Prices from $50
We all have at least a couple friends who are partial to cider. If that's you, this is definitely your event! Drag your beer-loving friends to this festival and they just might find a new favorite cider (or 100).
Haskell's Beer and Wine Cruises
June 29, July 27, and August 24, 2019
St. Croix River, Stillwater, Minnesota
Prices from $50
Sip in style with other fine drink enthusiasts, guided by your favorite local experts – us! Haskell's hosts three river cruises on the St. Croix this summer, so pick your date and save your spot on these unique, personal beer and wine cruises. Learn more about the June, July, and August events.
Twin Cities Bacon and Beer Classic
July 20, 2019
CHS Field, St. Paul, Minnesota
Prices from $59
Bacon? Beer? Is anything better? We'll stop the silly questions and let you get to this superb, sizzling summer event.
10th Annual Summer Beer Dabbler
August 17, 2019
Loring Park, Minneapolis, Minnesota
Prices from $50
Beer Dabbler is a one-of-a-kind craft beer experience. With more than 130 breweries sampling over 400 beers, this premier summertime craft beer festival takes place on the grass at CHS Field. They also have a Beer Dabbler at Twin Cities Pride Parade in June to celebrate LGBTQIA+ people. Click here for more details on how to join this beer-filled party in the middle of Minneapolis.
Minnesota State Fair
August 22 – September 2, 2019
Minnesota State Fairgrounds, St. Paul, Minnesota
You know the Minnesota State Fair and its famous food. Don't forget about the special release craft beers from the state's best breweries and wineries all around. This is a great chance to sample a variety of the most unique offerings in one, fun-filled place. See details.
All-Star Craft Beer, Wine, and Cocktail Festival
September 14, 2019
Target Field, Minneapolis, Minnesota
Prices from $40
Live music games, prizes, and unlimited samples of beer, wine, and cocktails – now that sounds like quite an occasion. Sip your choice of 250 different beverage options and walk around the field where the Twins play baseball. Two different sessions are available: afternoon and evening. See more details.
Now your calendar is bursting with fun opportunities to find your new favorite events each year. Cheers!