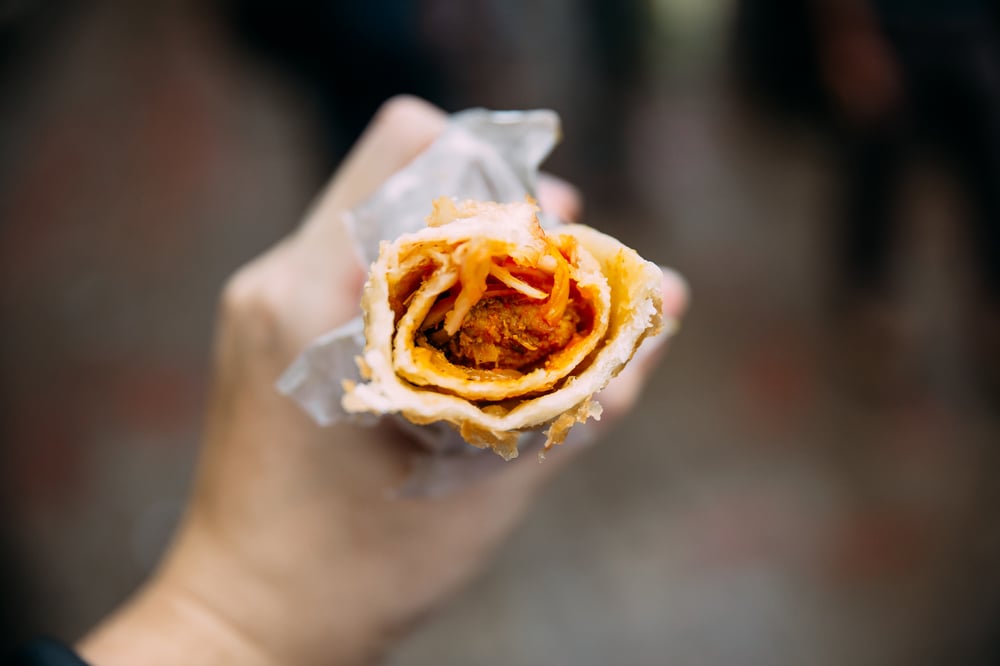 Food, beverages, games, rides, people watching -- a sense of normalcy is back for late August in Minnesota. The Minnesota State Fair is a tradition for many Minnesotans and out-of-state visitors. If you're walking around this year's fair Aug. 26 to Sept. 6, looking to take in some of this year's best new food options, we have some food and drink pairing ideas for you. And, if you prefer to stay at home but don't want to miss out -- or if you want to relive the experience after the fair -- we have the food breakdown for some at-home cooking, along with some beer and wine pairing options.
Bison bites
This is a North Woods twist on ravioli mixed with braised fennel, Portobello mushrooms, ground bison, and fresh basil. Giggle's Campfire Grill is offering this mix, which is wrapped in traditional egg dough then deep-fried before serving with sweet bourbon sauce.
The best wine to pair with bison bites is red wine. Nonetheless, not all red wines will suffice because of the low-fat bison meat. If you're making the dish at home, you can pair it with fruity Spanish Tempranillo, fine French Syrah, Italian Nebbiolo, and Tuscan Sangiovese.
If you prefer a beer, game meats like bison will pair best with full-character beer. These include stouts, IPAs, and strong lagers. The tangy undertone of the meat in your bison bites combined with the fresh veggies and one of these beers is sure to add some oomph that ties all the flavors together.
Caramelized banana pudding
For anyone looking for a new dessert recipe to satisfy a sweet tooth, Blue Moon Dine-In Theater's caramelized banana pudding is the answer. This comprises layers of fresh bananas, caramelized cocoa, caramel sauce, fresh whipped cream, crispy cereal, toasted vanilla wafers, and vanilla pudding.
The best wine options to complement the banana's taste are Malbec, chardonnay, and champagne. If you prefer combining your caramelized banana pudding with beer, German-style Hefeweizen is your ideal choice. This beer's fruity esters and its structured wheat profile are sure to blend wonderfully with your pudding.
Dual berry shortcake
This mouthwatering dessert comprises blueberries and strawberries sprinkled over sugarcoated Betty & Earl biscuits. This combination from LuLu's Public House is then topped with balsamic glaze and whipped cream.
The best wines to match the taste of your dual berry shortcake are dry wines with hints of residual sugar. The dry wine will perfectly match the sweetness of your shortcake. Some of your best dry wine alternatives include Natale Verga Dolcelina Sweet Red or our fan favorite Batasiolo Moscato d'Asti.
Most people would frown when they think of pairing a dual berry shortcake with beer. Nonetheless, with the right choice, you will get the perfect flavor. Consider serving your shortcake with a brown ale beer because this boasts a similar mouthfeel as your dessert.
Nordic Waffles' two new wraps
Nordic Waffles has two types of freshly-made waffle wraps. The first is a southern-fried spicy chicken drumstick with cheese macaroni and a drizzle of honey, set on a warm Nordic waffle. The second waffle is an ice cream cookie sandwich with chocolate and crunchy kettle corn drizzled on top with sprinkles then wrapped in a Nordic waffle.
For the perfect brunch, pair your Nordic waffles with champagne, sparkling white Vouvray, or Red Banyuls. Sweet malty beers, brown ales, and stouts are among your best beer choices for pairing with Nordic waffles.
Pizza Lucy
Green Mill's Pizza Lucy includes a sausage patty topped with mozzarella cheese, pepperoni, and pizza sauce, then stuffed in Green Mill pizza dough. The mixture is then topped with crumbled pepperoni, cheese, and a range of Italian seasonings.
The best wine to serve with pizza Lucy is Sangiovese. Its rich, fruity flavors cut through the saltiness of sausage and pepperoni to make a mouthwatering dish. You can also settle for Cotes du Rhone, a blend of Grenache and Syrah whose peppery spiciness complements the bold sausage flavor of your pizza.
If you want a beer to combine with your pizza Lucy, get a hefty Imperial IPA. This has an aggressive hop presence with a beefy malt flavor that compliments the spiciness of the pepperoni and sausage. The high alcohol content also cuts through the fat in your pizza slice.
Kerala fried chicken Kati roll
Another unique concoction from Hot Indian, the rolls feature marinated, battered, then fried chicken tenders that are wrapped in layered flatbread (paratha) with slaw and chutneys. The acidity of a good wine is perfect for keeping your palate refreshed so that you take another bite of your spicy Kerala fried chicken Kati roll.
The best sweet wines to pair with your spicy chicken are Vouray, Moscato, and Riesling. Budweiser, pale ale and pilsner are the ideal beers to pair with your spicy fried chicken.
At the state fairgrounds, or in your home -- food and drinks done right
These foods will be showcased at the fair, but if you can't make it yourself, these concoctions can make for fun at-home cooking collaborations with your family.