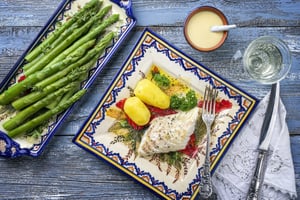 Wine pairing—lots of people think they get it, but more likely than not, they're just parroting something they overheard from a sommelier at a tasting. Get into sweet wines, though, and it gets even more obvious they're making it up as they go.
There's no need to be scared off by sweet wine. It doesn't mean you're a novice to seek out and enjoy wines that go down easy. The trick is in learning how to pair them with food that plays to their sweet strengths.
You know some sweet wines are best with dessert, but which ones shine with spicy, salty, or sour foods? Let's dive into some red wines, some white wines, and relish how sweet it is to drink sweet vino.
Cabernet Sauvignon and Rich, Red Meat
Here's a softball for you. Fire up the grill. Throw the steaks on, or lamb chops, or your favorite red meat. Go ahead, get crazy with salt and seasoning. Then find a juicy, bold Cabernet Sauvignon from California, Oregon, or Washington state. The big flavors will keep up with each other and leave your taste buds satisfied, not overwhelmed by their matched intensity.
Shiraz with Sweet and Spicy
Don't put the grill away just yet. When the weather is just right, bust out your favorite BBQ recipe with heavy spices. Whether it's a classic, tangy BBQ chicken or true smoked meat with a zippy glaze, it will dance in that sweet-and-spicy territory with a sweet red wine. Look at a Malbec or Côtes-du-Rhône. Better yet, grab a Shiraz that features dense cherry, intense chocolate, and ripe plum juiciness. You'll wish you had time for real BBQ all year round.
Pinot Noir and Earthy Dishes
Compete with earthy, dark, savory foods by using Pinot Noir. It's time for that mushroom gnocchi recipe or truffle-decorated pasta. Sometimes an aged wine will develop more complex flavor profiles that evoke deep forest mushrooms, smooth nuttiness, or leathery qualities.
The great thing about Pinots? They're full of different notes, but the body is narrower, lighter than a big-bodied Cabernet Sauvignon or Shiraz.
Merlot and Sweet Sauces
Blackberry jam fans, you'll want this approachable and interesting Merlot ready for your next dinner party. Strawberry-bright fruit with a mellow oakiness make this a delightful choice for your table, especially when you're serving meats and vegetables with fruity sauces and sweet glazes. This one tends to fly under the radar when it comes to pairing advice, but give it a try and you might be converted at first bite and sip.
Moscato d'Asti and Light Seafood
Known as a classic Italian white wine, Moscato d'Asti is perfect for aperitivo hour and summertime lounging. Don't be shy about bringing it to the lunch or dinner table, too. Everybody knows to serve white wine with fish, and wow your guests (and yourself, too) by pairing this sweet white with a citrus-spritzed taste of the sea.
Of course, you have to eat dessert. Try a fun, unique fig pastry or delicate peaches and cream served with this Moscato—sweet and stylish.
Riesling with Spicy Heat
Think Indian food only works with an uber-light import beer? Love Asian stir fry with dangerously spicy peppers that deserves more than water to drink? (Like H2O helps anyway…) Try a new approach to soothe the fiery attack on your taste buds.
For lighter yet spicy fare, prepare to douse the flames with the renowned sweetness of a German Riesling. Lower alcohol content sweet whites provide a much-needed respite and balance to the foods that normally require a fire brigade to quench.
Chenin Blanc and Fatty Fish
For a lesser-known white wine, seek out a Chenin Blanc and savor notes of ginger, mango, mandarin orange, and toasted almond. Like Chardonnay in some regards, pair this Chenin Blanc with fatty and buttered-up fish, especially salmon and garlicky shrimp. Alternatively, try it with acidic flavors, vinaigrette dressings on salads, or other sour-leaning tastes.
White Zinfandel with Robust or Delicate Flavors
A bit dry, a lotta bit sweet, and an overall faint berry spin for this rosé relative. Pick up a bottle or three of a White Zinfandel. What pairs with this one besides a bowl full of strawberries and sunshine on the patio? Try a different direction; really rich pâté, savory spreads, a lightly tangy cheese board, and for dessert, a creamy mousse. Really, the adventure is up to you.
Suit up for your sweet wine journey with help at one of Haskell's locations soon. The potentials are plentiful.