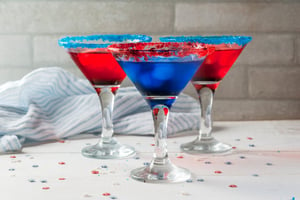 Summer in Minnesota is pure magic. If you haven't already been hanging at the lake, taking weekend trips up to the cabin, or throwing grill-out parties in the backyard, you will be for Independence Day – and so much more.
Whether your 4th of July plans involve a summer barbecue, lazy pool lounging, yard games or just simply hanging out with family and friends, these 4th of July cocktails are sure to spark your perfect blend of American pride and joy.
Patriotic Mojito Cocktail
You've celebrated Independence Day many times, but you've never enjoyed it with this kind of 4th of July cocktail. Give the Patriotic Mojito a spin and you might have found yourself a new annual tradition that combines the sweet joy of summer and the tasty excitement of the holiday.
Ingredients:
2 oz. white rum
1 oz. fresh lime juice
1 oz. simple syrup
10 mint leaves
3 strawberries
15 blueberries
1 package silver edible glitter stars (optional)
How to make a Patriotic Mojito cocktail:
In a glass, muddle lime juice, simple syrup, mint, 2 strawberries, and 10 blueberries.
Add rum and stir.
Fill glass with ice and top off with club soda.
Garnish with a skewer of sliced strawberry and 5 blueberries.
Sprinkle edible glitter stars on top.
Cape Codder
New England vacationer-refined taste and simple pleasures by the waterside are what you'll feel with every sip of this 4th of July cocktail. Use a Minnesota vodka to give it a Midwestern soul.
Ingredients:
How to make a Cape Codder cocktail:
Combine vodka and cranberry juice in a highball glass.
Add ice.
Garnish with lime wedge.
Firecracker Punch
Amp up the excitement for the kids before the fireworks begin. Just make a batch of this delicious punch — and let the adults try this 4th of July drink with a splash of their favorite spirit (we recommend gin or bourbon).
Ingredients:
1 cup red cinnamon candies
4 cups water
6 oz. frozen lemonade concentrate, thawed
1/3 cup frozen orange juice concentrate, thawed
1 liter ginger ale
6 orange slices, cut in half
How to make Firecracker Punch:
In a saucepan, cook cinnamon candies and 1 cup of water over medium-high heat.
Stir frequently until candies are melted.
Remove from heat and cool completely – about 30 minutes.
In a large punch bowl, stir candy mixture, remaining 3 cups water, and lemonade and orange juice concentrates until thoroughly mixed. Refrigerate until ready to serve.
Just before serving, gently stir in ginger ale.
Garnish with orange slices.
An Earnest American Brew for the Beer Drinkers
Brooklyn Brewery's Amber Lager is one of those beers that you might see everywhere without noticing – until you've had one (or three) and you realize you've been missing out on a great summer beverage. A New York product, proud of its effervescent refreshing bubbles and a balanced profile, this appeals to your uncle who doesn't like new things and your most picky of in-laws (you know how they can be). Looking for more beers? Click here for more patriotic beers for your celebration!
Your Independence Day celebrations will be a breeze with these 4th of July cocktails and more. Have a great time!