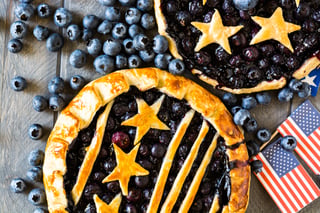 It's time to celebrate our Red, White and Blue, as we get ready for the picnics, parties and fireworks of July 4th. It's time to celebrate everything American – like apple pie and baseball. If you are throwing a summer party and need a few ideas for patriotic cocktails, we have the shakedown for cool drinks with these drink recipes for your 4th of July Independence Day celebration.
Tip: Pick up fresh strawberries and blueberries for an instant way to add some instant "red, white and blue" to most cocktail concoctions.
Pop Rocks Drinks
Here's an idea for the kid in you – and a great idea to make a few juice drinks for your kids ages 5+. Pop rocks.
The folks at the Food Network suggest coating glass rims with Tropical Punch (blue) Pop Rocks for personal patriotic fireworks. Dampen the glass rim with lemon juice, dip the rim in the candies that you've poured on a plate (like you do with a margarita), and fill the glass with a red drink. For the kids, use a red berry punch. For adults, try our sangria recipe (below).
Red, White, and Blue Sangria
Whip up a batch of this sangria and serve with a spring a mint.
Ingredients:
Combine the ingredients in a large pitcher and stir. Chill in the refrigerator for at least four hours.
Sparkling Wine with Berries
Ingredients:
Pour your bubbles in a champagne flute, add a few strawberries and blueberries and there you have it. Keep it cool, classic and classy.
Ingredients:
In a glass, muddle lime juice, simple syrup, mint, strawberries and blueberries. Add rum and stir. Fill glass with crushed ice and top off with club soda. Garnish with a skewer of strawberries and blueberries and sprinkle edible glitter stars on top.
You have to hand it to Bobby Flay for coming up with this thirst quenching adult beverage. You'll need some kitchen time for this, but it may be the perfect summer cocktail.
Ingredients:
In a small saucepan, bring the water to a simmer with the sugar and stir over moderate heat until the sugar is dissolved, about 1 minute. Let the sugar syrup cool. In a blender, puree the watermelon until smooth. Set a fine-mesh strainer over a bowl and strain the watermelon juice, pressing gently on the solids to extract as much juice as possible. Discard the pulp. In a large pitcher, combine the sugar syrup with the lime juice, blueberries and mint leaves. Using a wooden spoon, lightly muddle the blueberries and mint. Add the watermelon juice and tequila. Refrigerate until chilled, about 2 hours. Pour the cocktail into tall ice-filled glasses. Garnish with the mint sprigs and serve.
Classic Manhattan
Celebrate your patriotism with all-American classic, whiskey. This classic American cocktail was invented in the 1870s at the Manhattan Club. Connoisseurs of this classic drink each have their perfect recipe. We'll tell you it's a mixture of whiskey, sweet vermouth and bitters, and it is garnished with a maraschino cherry. Some use rye, bourbon, or brandy. Find your favorite and enjoy.
Need a little refresher on our country's Independence Day? We've got you covered there too. Click here for a great history lesson. Celebrate our past, look to our future! And, of course, drink responsibly.
Founded in 1934, Haskell's has championed fine wines for over 80 years. We have 13 wine stores in Minnesota, two delis and one restaurant. As one of the top wine shops in North America, Haskell's is known for legendary service and one of the finest collections of wine, beer and spirits. Led by Chairman and CEO Jack Farrell, and the Farrell family, Haskell's continues to be at the forefront of the wine scene throughout the world. Haskell's also can ship wine, beer & spirits all throughout the world, the U.S. and we deliver locally.