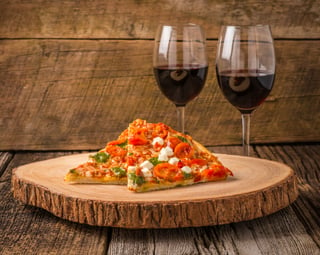 Imagine this scenario: It's Friday night, you've had a long week, and you don't feel like cooking. That's when pizza sounds very appealing. Whether deep dish or thin crust, delivery or gourmet, there's a pizza for just about every taste. And there's a wine for just about every kind of pizza. So, the next time you have a craving for sausage or pepperoni, check out this late-night cheat sheet for pairing pizza and wine.
Ten Pizza and Wine Pairings for Late Night, Friday Night, Any Night
Classic Pepperoni and Cheese Pizza. Always perfect.
Wine suggestions: A Southern Italian classic, Primitivo, or a Sangiovese
Margherita Pizza. Nice light bites with fresh basil, mozzarella, and tomato slices.
Wine suggestions: Garnacha or Rose
Pizza with prosciutto and arugula? Sounds delish and you'll want a wine that is savory and spicy to stand up to cured meats and the peppery greens.
Wine suggestion: A full-bodied Chianti
Mushroom and Cheese Pizza. Earthy and a simple vegetarian pie.
Wine suggestion: Pinot Noir
Sausage Pizza. Spicy, bold, rich, saucy.
Wine suggestions: Syrah/Shiraz


White Sauce Pizza. Cream-based dishes are hearty and good with plenty of wines.
Wine suggestions: Chardonnay or Pinot Noir
Anchovies, pepperoni, and cheese. Now you are talking big and bold.
Wine suggestion: Zinfandel
Four Cheese Pizza. That's a lotta formaggi!
Wine suggestion: Primitivo or Zinfandel
Veggie/Vegetarian Pizza. Lots of peppers, olives, onions, and mushrooms, right?

Wine Suggestion: Sauvignon Blanc or dry Rose
Hawaiian Pizza. An international treat, with Canadian bacon, pineapple, and cheese.
Wine Suggestion: Consider a Riesling
Something to keep in mind: Tomatoes are high in acidity, so you'll want a wine to match. You'll do well with reds that are juicy, not high in tannins, and help bring out the flavors of your toppings.
Ready for pizza and wine? We can deliver your wine directly to your door with Drizly. Time it with your pizza delivery!