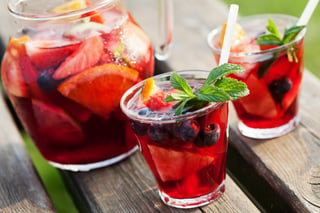 Are you looking to get more fruit into your diet? Here's an idea — for the adults — sangria. Traditionally made with chopped fruit, sweetener, and a bit of brandy, sangria is a staple in Spain and Portugal. But you don't have to cross the ocean to enjoy this perfect summer punch drink. We've found some terrific recipes and variations of the fruit-rich drink that you will want to make over and over.
Sangria (in various forms) has been enjoyed for more than 2,000 years, but it wasn't until it was showcased at the 1964 World's Fair in New York that it gained popularity here in the states.
When we say we have your guide to the perfect sangria, it is just that — a guide. These recipes for the perfect sangria can be modified to fit your likes and dislikes, whatever fruits are in season, or simply the ones you have in your fruit bowl. And remember that ice is your friend. You want to serve your sangria well- chilled, downright cold.
Five Recipes to Create Your Perfect Sangria
HoneyCrisp Apple Sangria
Ingredients:
2 Honeycrisp apples (a Minnesota favorite)
750-milliliter bottle of Unoaked Chardonnay
1/3 cup Peach Schnapps
1/4 cup Pisco
1/4 cup honey
2 oranges, 1 quartered
1 lemon, quartered
1 lime, quartered
2 cinnamon sticks
2 quarter-size slices of fresh ginger
3 cloves
2 tablespoons sugar
1/2 teaspoon ground cinnamon
Ice
Club soda
Mint sprigs, for garnish
Peel, core, and chop one of the apples. In a bowl, combine the Chardonnay, Schnapps, Pisco, and honey. Add the quartered orange, the lemon, lime, cinnamon sticks, the chopped apple, ginger, and cloves, and refrigerate at least 4 hours. Strain the sangria into a pitcher. Peel, core, and finely chop the remaining apple. Peel, section, and chop the remaining orange. Mix the apple and orange in a bowl. On a small plate, blend the sugar and cinnamon. Moisten the rims of wine glasses and dip in the cinnamon sugar to coat. Fill the glasses with ice. Pour in the sangria until three-quarters full. Top with a splash of club soda. Garnish with a spoonful of the chopped apple and orange and a mint sprig.
Ingredients:
1 cup Brandy
1/2 cup Orange Liqueur
1/4 cup superfine sugar
1 orange, thinly sliced
1 pint raspberries
1 lime, thinly sliced
1 lemon, thinly sliced
2 bottles Sparkling Wine or Cava, chilled
In a large pitcher, combine the Brandy, and Orange Liqueur. Pour in the sugar, stir or shake the pitcher thoroughly to mix until the sugar dissolves. Add all the fruit at once. Add the Cava and serve as is or on ice.
Ingredients:
6 cups assorted fruits (such as mango, pineapple, cantaloupe, and apricot), sliced or cut into chunks
1/4 cup thinly sliced peeled fresh ginger
1 to 1 1/2 cups fresh basil or mint leaves
1/2 cup Orange Liqueur, such as Cointreau
1 bottle crisp white wine, such as Sauvignon Blanc or Pinot Grigio
3 tablespoons fresh lemon juice (from 1 lemon)
Ice
In a large bowl or pitcher, combine fruit, ginger, basil or mint, and orange liqueur. Mash gently with the back of a wooden spoon until basil is bruised and fruit releases juices. Add wine and lemon juice and stir to combine. Refrigerate 1 hour (or up to 1 day). To serve, fill eight glasses with ice and top with sangria.
Ingredients:
2 750-ml bottles white wine, chilled
1 cup Brandy
2 navel oranges, sliced
1 lemon, sliced
1 lime, sliced
1/4 cup superfine sugar
Pour the wine and Brandy over the fruit and sugar in a large serving bowl. Stir until the sugar is dissolved. Stick a ladle in the sangria so people can serve themselves and have a full bucket of ice by the side of the bowl.
Ingredients:
2 lemons, washed and sliced
3 limes, washed and sliced
1 large green cucumber, sliced
1 cup fresh mint leaves, washed and patted dry
1 cup fresh basil leaves, washed and patted dry
1 750ml bottle dry white wine
2 cups sparkling water
2 cups ice
Combine the sliced lemons, limes, cucumber, mint, and basil in a large pitcher. Use a wooden spoon to muddle slightly to release some of the juices and natural herb oils. Pour in the wine. Stir and chill about 20 minutes, letting the flavors meld. Stir again, then add ice and top off with sparkling water. Serve immediately.
Cheers! These recipes may inspire you to grow a few herbs. You'll never run out of reasons to use mint.