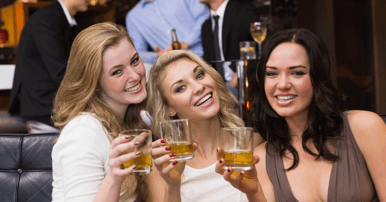 Let's talk whiskey!
There are some great things happening in the whiskey world. People love to drink all different kinds of whiskey (and whisky—yes, they're spelled differently and actually are slightly different products!).
Whether you're looking for an Irish whisky, Scotch, Canadian whisky, or other variations of this spirit, there's a lot to explore and a lot to enjoy. That's why there's an increase in the number of women drinking whiskey, as well as an increase in the number of women-owned distilleries around the United States and beyond.
Whiskey, the "Water of Life"
It's not just cute to call whiskey "the water of life," because that's what it actually means! This invigorating beverage comes in a number of shapes and sizes, so get to know it from our expertise at Haskell's.
There are several main varieties of whiskey, including rye, bourbon, and Scotch. The ingredients vary: some are more or all wheat, rye, corn, or other ingredients. These, of course, each create different flavor profiles, so you can do some sipping and find what you love most.
The Good News About Women and Whiskey
In the past, there has been a stigma that hard spirits, like whiskey, are what men drink, and it's unapproachable for women. Thankfully, that mistaken overgeneralization is coming to an end; it's becoming clearer and clearer that women love whiskey and are willing to explore varieties and learn more about this delicious and fascinating spirit.
Maybe you have a partner who loves whiskey and you want to learn to enjoy it, too. Maybe you want to be like one of the badass characters in a movie who orders, "Scotch, neat." Or maybe you've aced your knowledge of beer and wine and want to understand more about spirits. Whatever the case, there's no need for women or anyone to feel intimidated to drink whiskey—and there's no need for men to think whiskey is just for them. Let's all enjoy some great drinks together because there's plenty to go around!
Notable Women in Whiskey
Let's pay due credit to some notable women in whiskey.
Roe & Company is an Irish distiller new on the well-established Irish whiskey scene. Master Blender Caroline Martin worked with five top-notch Dublin-based bartenders to create the blend.
Master Distiller Marianne Eaves came from a chemical engineering background, and she now creates beloved bourbon at Castle & Key Distillery in Woodford County, Kentucky.
With a master's degree and a Ph.D., well-traveled Sonat Birnecker Hart became the co-founder of Koval Distillery in Chicago, Illinois, which produces delightful whiskeys, bourbon, and even gin.
Carin Luna-Ostaseski started SIA Scotch Whisky in San Francisco, California, and she's won awards and accolades that show she knows what she's doing.
There are more women in whiskey, so if you're looking to support businesses and enjoy different whiskeys, do a little digging to find what you want to taste.
Get Started With These Whiskeys to Try
Want to dive in and learn some more about whiskey? The best learning is always practical and hands-on, so look for these the next time you stop by a Haskell's location or shop online.
OLD FORESTER - HASKELL'S 2019 BARREL PICK - ATOMIC SPICE BOMB

A single barrel bourbon whiskey at an affordable price point ($45.99), the 2019 Old Forester barrel just arrived and we are sure glad we picked this one.

Jeffers Creek Kentucky Straight Bourbon Whiskey
For the budget-conscious drinker who doesn't want to lose flavor at lower price points ($19.99), Jeffers Creek will be a perfect match.
Redbreast 12-Year Irish Whiskey
A classic among regular Irish whiskey drinkers, Redbreast ($59.99) offers a clove, vanilla, burnt ginger cake flavor profile in a complex body.
Don't forget: Haskell's has in-store tastings — keep your eyes on the Haskell's events calendar!