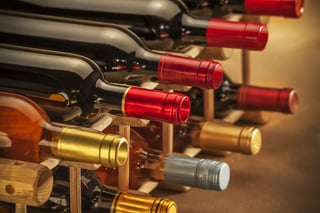 When it comes to most things in life, the Goldilocks theory works best for wine temperature: not too hot, not too cold – you want it just right. The question then becomes, what exactly is "just right."
There are actually two areas we need to explore for wine temperature: storage and serving. What is the best temperature to store your wine and what is the optimal temperature for serving wine. Remember, it's a guide to help you best enjoy your favorite bottle of wine. A few degrees here or there won't ruin your experience, but we want you to experience these wines the way they were intended.
Let's start with storing the reds, whites, and sparkling wines.

Stability is key. Too much fluctuation in temperature can lead to cork damage. Keep your bottles away from sunlight, and heat exposure, and give them balanced humidity: not too hot, not too cold, but just right.
Ideal storage temperatures for red wine – 50-55 degrees F
Ideal for white wines – 45 degrees F
Quick Reference Serving guide:
Light whites, roses, and sparkling wine are best served — 40 to 50 degrees F
Full-bodied white and light fruity reds are best served — 50 to 60 degrees F
Full-bodied reds and ports are best served — 60 to 65 degrees F
Should you invest in a wine cooler?
It depends. If you keep a number of bottles on hand, consider purchasing a wine cooler to help keep your wine at a controlled, perfect temperature. Unlike optimum wine temperatures, prices on these can fan the range. Keep it simple, and keep your wine at its best until you're ready to pour. Plus many of our older Minnesota homes have a built-in wine cellar — the basement root cellar. See what you can do to convert that area. Sounds like a nice fall project.
Tip: If the bottle is not cold enough to drink, put the bottle on ice for an hour.
If the bottle is too cool, simply decant, and let it sit at room temperature for about an hour. It will all even out. 


Cheers!
Founded in 1934, Haskell's has championed fine wines for over 80 years. We have 13 wine stores in Minnesota, two delis and one restaurant. As one of the top wine shops in North America, Haskell's is known for legendary service and one of the finest collections of wine, beer and spirits. Led by Chairman and CEO Jack Farrell, and the Farrell family, Haskell's continues to be at the forefront of the wine scene throughout the world. Haskell's also can ship wine, beer & spirits all throughout the world, the U.S. and we deliver locally.