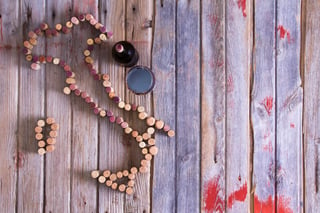 Italy is known for many things: fashion, food, and wine. Oh, the wine. So much passion goes into products that come from this boot-shaped country, and Amarone della Valpolicella, simply referred to as Amarone, is one of those complex, passionate contributions.
It comes from the Northern Italy region of Valpolicella. What's so special about Amarone is not just the rigorous, delicate and often long process, but the distinctive deep, rich, complexity of each sip. For big red wine lovers, we know once you savor your first Amarone, you'll be waiting for more.
Quick Facts About Amarone
Winemakers need 23 pounds of grapes for one bottle of Amarone.
Semi-dry grapes are used. The Grapes for Amarone are picked late, left to dry longer (approx. 120 days) until shriveled to nearly become raisins.
45+ day slow fermentation.
Romance. A tour of Valpolicella, where Amarone is produced, is also Romeo and Juliet territory.
Best Amarone for Any Budget

2003 Tommasi Amarone della Valpolicella Classico - This Patriarch of Amarone is king of its class. It doesn't come cheap but royalty doesn't. $299.99 a bottle.
Allegrini Amarone della Valpolicella Classico - Consistently sought after and highly acclaimed. $86.99
Tommasi Amarone della Valpolicella Classico - Tomassi is a famed Amarone producer that consistently scores high for its wines. Complex, smooth, full bodied, with clear shades of dried grapes. $79.99
Masi Costasera Amarone Classico - Attractively long finishing and full-bodied with soft tannins. Rated 92 points by Wine Enthusiast. $75.99
Le Salette Amarone della Valpolicella Classico - Nicely aged, huge wine even better with decanting. Delicious. $62.99
Bolla Amarone della Valpolicella Classico - Terrific Amarone for the price. Pairs beautifully with rich meat dishes, and zesty pasta. $49.99
Villalta 'I Comunali' Amarone della Valpolicella - Aging occurs in traditional hand made Slavonian oak barrels, the oldest dating back to 1874. ON SALE NOW only $41.99 (Save $13 now)
Riondo Amarone della Valpolicella - Great Amarone for the price. In 2005, the quality of the grapes was good to excellent, with thick skins that made them ideally suited to the drying that is at the heart of the vinification process. $39.99
De Antoni Amarone della Valpolicella - At only $31.99, terrific with lamb or other big meat dishes.
Bonus Tip:
Valpolicella Ripasso is a great introduction to Amarone, with great taste and attractive prices.
Try some of these:
Tommasi Ripasso - You won't go wrong with Tommasi. And, the price is right. $26.99
Colavita Valpolicella Ripasso - Rich, delicious and worth trying. $23.99
Allegrini Palazzo della Torre - Savor the experience for less. Only $19.99, this wine will age easily for 8-10 years.
Summary
Not sure where to start? Any of our wine experts are happy to point you to the right Amarone for your budget. Where will you begin?