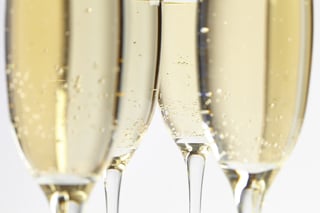 The Italians are all about "La Dolce Vita," and when it comes to the wines they produce, we raise our glasses. One of the most popular sparkling wines from this country known for fine food and wine is Prosecco. And LaMarca Prosecco is one of our favorites.
What is Prosecco?
It's a white wine made from the Glera grape and produced in Veneto and Friuli Venezia Giulia regions in the northeastern-most part of Italy. Prosecco obtained the quality label called Denominazione di Origine Controllata (D.O.C.), i.e. controlled designation of origin in 2009. The label is an important identification of quality and the wine is subject to a procedural guideline that allows the wine house to write D.O.C. on the wine bottle label. Got that?
Here's what you need to know: If you are looking for a delicious sparkling wine and don't know where to start, consider Prosecco, and if you are considering Prosecco, you'll want to start with LaMarca.
Note it's iconic Tiffany-like bottle with its blue label and silver foil. You may recognize the bottle, but hopefully, you'll know it for its great taste and amazing value.
LaMarca Prosecco is a perennial favorite that both critics and customers love. Here's why popping a bottle of LaMarca Processo is so perfect for Monday, Tuesday, Wednesday, Thursday, Friday, Saturday or Sunday. Whether you are bringing a bottle to a dinner party, or simply want to watch a movie, you'll likely need two bottles: one for now, and one for later.

Crisp, light, dry

Refreshing

Elegant

Food friendly (cheese, pizza, pasta, chocolate)


Worthy of a dinner party

Great hostess gift

Perfect for binge-watching your favorite Netflix show

Every season is Prosecco season

Mom will love it, so will Dad

Your pocket book will love it more


BONUS - low calorie, low carbs
If you run out after your first bottle, we won't say "we told you so." Rather, you can order and we can deliver. Remember, Haskell's delivers with the click of a mouse, so feel free to order online now.