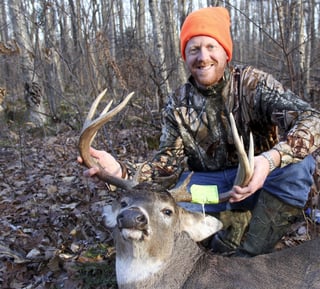 Minnesota's first official deer season dates back to 1858, the year we first became a state. And here we are getting ready for Deer Hunting Season 2017. Assuming your family member or friend doesn't come home empty-handed, you're going to need a little vino to pair with the venison you'll soon be enjoying.
Pairing wine with your venison doesn't have to be tricky. There are plenty of great options to consider and Haskell's wine experts narrowed in on some of their favorite picks. Full-bodied reds are what you are aiming for, and these selections are on target.
Ten Big Wines for Your Big Game Feast
Chateau Talbot - This 2011 red Bordeaux from the Saint Julien region of France is lovely and on sale.
La Historia di Italia 2011- A lovely Merlot for the occasion, a perfect Merlot for a venison tenderloin or rack.
Barbaresco Batasiolo 2009 - A robust, full-bodied red wine made from the Nebbiolo grape in the Piedmont region of Italy. A nice sale price too.
El Jamon Garnacha 2012 - This Spanish wine is delightful and a steal at under $10 on sale.
Vina Robles Cabernet - This California Cab doesn't disappoint. Bring it home today.
Karma Cabernet - A Paso Robles Cab for your hunter's game or your widow's weekend.
Limerick Lane Zinfandel - A Sonoma Valley Zin perfect for any cut of venison.
Napa Cellars Zinfandel - Big, bold, delicious and on sale for well under $20.
Aquaribay Malbec - From Argentina comes a great value wine that delivers. You'll want a case of this.
Caliterra Reserva Carmenere - An intense Chilean wine with deep ruby to violet-red color that's full of berry aromas. It has a lot going on for $10.99.
BONUS: Three Drool-Worthy Venison Recipes That Will Go Great With Any Of These Wines!
Venison Chili with Chipotle Peppers
1 tbsp. of oil
1 medium onion, chopped
2 cloves of garlic, minced
1 medium red bell pepper, chopped
1 medium green bell pepper, chopped
1 tbsp. of chili powder
2 tsp. of ground cumin
2 lbs. of ground venison, browned
1 (28 oz.) can of plum tomatoes with juice, chopped
1 to 2 tbsp. of chopped canned chipotle peppers in adobo sauce
Salt and pepper to taste
In a large, heavy saucepan, heat oil over medium heat. Add onions, garlic, and bell peppers. Cook until tender (5 to 10 minutes). Add chili powder and cumin and cook, stirring frequently, for 2 minutes. Add the venison, tomatoes, and chipotle peppers. Heat to boiling. Add a little water if it looks thicker than you like. Decrease the heat and simmer uncovered for at least 20 minutes. Season with salt and pepper.
Venison Tenderloin with Blackberry Sauce
1 lb. venison tenderloin
1 cup of dry red wine
3 tbsp. of dijon mustard
2 cups of chicken stock
3 tbsp. of blackberry jam
Salt and pepper to taste
Mix the wine and mustard in a nonreactive dish. Rub salt and fresh pepper into tenderloin and coat with marinade. Refrigerate for at least six hours turning every couple of hours. Alternatively, the tenderloin can be cut into one-inch slices and marinated that way. Remove meat from marinade and shake off any excess. Heat two tablespoons of butter with one tablespoon of olive oil over medium heat in a large saute pan. Brown the tenderloin on each side until rare, about 5 minutes per side. Remove from pan and tent with foil. The meat will continue to cook. Quickly add chicken stock and deglaze pan. Reduce heat by half then add jam. Cook until sauce thickens, about 5 minutes. Slice tenderloin into one-inch pieces (if not already done) and serve drizzled with sauce from the pan.
Balsamic-Glazed Rack of Venison
1/4 cup of balsamic vinegar
2 tbsp. of olive oil
1-1/2 tbsp. of ketchup
1 tbsp. of Worcestershire sauce
Coarsely ground pepper
Kosher salt
1 tbsp. of canola oil
Two, 1-1/4 lb. venison racks, 4 chops each, frenched
In a bowl, combine the vinegar, olive oil, ketchup, Worcestershire sauce, 1/2 tablespoon of pepper and 3/4 teaspoon of salt. Preheat the oven to 450°. In a nonreactive ovenproof skillet, heat the canola oil until simmering. Set the venison racks, bone side up, in the skillet. Sear them over high heat, turning once, until browned, about 1.5 minutes per side. Put the skillet in the oven and roast for about 20 minutes, brushing the racks 3 times with the glaze until the meat is rare and an instant-read thermometer inserted in the meat reads 125°. Cover with foil and let rest for 10 minutes. Season with salt and pepper. Add the remaining glaze to the skillet and bring to a boil over high heat, stirring to scrape up the browned bits. Cut the venison into chops and serve with the sauce.