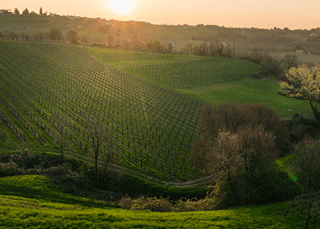 Santa Margherita represents the best of tradition, innovation, a passion for authentic and enjoyable wines, and respect for the people and the lands that produce them.
Over 80 years ago, Count Gaetano Marzotto led the revitalization of an abandoned portion of the Venetian countryside. Here, where rivers from the alps cut through the sun-drenched hills on their winding way to the Mediterranean shore, he created much-needed farmlands and restored traditional wine-making in what had been a region of fine vineyards since the time of the Roman Empire. Employing new agricultural science and a commitment to the needs of the Italian people, Marzotto gave this labor of love the name of his dear wife Margherita, and the first piece in the mosaic of Santa Margherita was set.

Since then, Santa Margherita has grown to encompass vineyards across Italy, from the Veneto to Tuscany, producing distinctive, authentic wines of deep tradition and regional character. Santa Margherita's winemakers hold themselves to the highest levels of social responsibility and environmental sustainability while remaining committed to their Italian heritage.
Sustainable Practices
The approach to winemaking at Santa Margherita is eco-friendly, revolving around the use of natural products and growing processes to protect the health and well-being of the vineyards. They apply organic land management practices that contribute to the long-term health of our environment and computerized, in-ground irrigation systems that are designed to reduce water evaporation and runoff, making them more efficient. In Chianti Classico, the winemakers employ "extreme organic farming," eliminating the need for conventional chemical pesticides, and in Veneto, 90% of the grapes are hand-harvested to preserve their freshness and delicate flavors.
In an effort to be more conscious and aware of sustainable and responsible practices, Santa Margherita has abandoned the use of animal byproducts years ago, and instead use only vegan-friendly bentonite clay, yeast-derived and vegetable-derived products during filtration. They also ensure that they maintain these standards throughout the entire production process by only working with vegan suppliers.
At Santa Margherita, only energy derived from 100% renewable sources are used, such as the 6,500 square feet of solar panels used at the winery in Portogruaro, making this winery completely self-powered.The grapes are grown in estate vineyards immediately surrounding the winery, strategically located just for that purpose. Instead of sourcing wine bottles from outside companies, they have also created their own at the adjacent glass production facility, a stone's throw away from the fermentation cellars, which shares the power resources. This reduces various pollutants related to storage and transportation emissions. In addition, up to 65% of the green glass is made of recycled material.
Women's Choice Award 2017
As the trusted referral source for women, the Women's Choice Award was delighted to honor world renowned Italian winery, Santa Margherita for earning the 2017 Women's Choice Award® based on extraordinary recommendations from their female customers.
The Wines:
Grapes: Pinot Grigio

With its straw yellow color, clean intense aroma, and dry golden apple taste, the signature Pinot Grigio is full of authentic, flavorful personality. A clean, lovely aperitif to start any food occasion. It goes wonderfully with fresh cheeses, sea food, pasta, and rice dishes, as well as white meats, sushi and soufflés.
Grapes: Sangiovese (85%), Merlot and Cabernet Sauvignon (15%)

The aromas of this complex red wine range from cherries and plums to gladiolus flowers and earthy flint. The tannic, oak-aged flavors are bright and round, with a dry, warm, earthy finish. Best enjoyed with very flavorful dishes, such as tomato-based sauces, mushroom ravioli, beef or pork roasts, and game meats from venison to pheasant and is also excellent with mature cheese.
Grapes: Glera

This sparkling wine has fine bubbles winding through its bright straw yellow color and greenish reflections. Its aroma will remind you of peaches and sweet flowers, and its flavor includes fruity hints of pineapples and Rennet apples. Perfect as an apéritif, it is ideal with seafood or cheese appetizers. Its mellow versatility also brings flavorful sparkle to a small plate brunch or your favorite rich dessert.