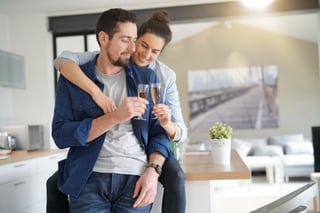 Valentine's Day is right around the corner — a time to express your love through food, candy, cards, and drinks. So, play a little music to set the mood and surprise your significant other with dessert and drinks. It beats waiting in line at restaurants and picking from an over-priced menu. Plus, this will let them know you're willing to go the extra mile.
To get you started, here are three Valentine's Day drinks and two easy-to-make desserts that you'll fall in love with.
French 75
We won't be surprised if your date falls head over heels with this refreshing cocktail. French 75 is the perfect combination of gin, champagne, and lemon.
Combine gin, lemon juice, and simple syrup in a cocktail shaker. Fill shaker with ice, cover, and shake vigorously until outside of shaker is very cold, about 20 seconds.
Strain cocktail through a strainer or a slotted spoon into a large flute. Top with Champagne and add a lemon twist for garnish.
Angel Food Cake
We know it's not exactly warm and summery on Valentine's Day, but you can still enjoy a light, refreshing cocktail and equally light and delicious dessert to celebrate the occasion. And angel food cake is the perfect choice. Serve it with whipped cream and fresh berries.
Pink Lady
Even the name of this one has Valentine's Day written all over it. The Pink Lady is the perfect cocktail for your sweetheart, although the drink itself isn't as sweet as you may think. The dry, tart kick of flavor is what makes a Pink Lady so irresistible!
Combine ingredients in a cocktail shaker. Shake vigorously. Strain into a chilled cocktail glass. Garnish with a cherry.
Note: If you're feeling uneasy about the egg white or are vegan, either omit it from the recipe or use Aquafaba (chickpea liquid) with this recipe! It shouldn't greatly impact the taste of this cocktail.
Lemon Raspberry Tiramisu
Compliment the lemon and cherry flavors found in your Pink Lady cocktail with a lemon raspberry tiramisu.
Chocolate Raspberry-Tini
Valentine's Day and chocolate go hand-in-hand. So, why not surprise your date with a delicious Chocolate Raspberry Martini. We recommend having this as/with your dessert.
Combine ingredients in a cocktail shaker with ice. Shake well and strain into a chilled martini glass. Garnish with raspberries.
Take it a step further and drizzle chocolate syrup on the inside of the glass. Note: the chocolate syrup that hardens works well because it doesn't drip down the sides.
You won't need a dessert to pair with this cocktail, it will satisfy your sweet tooth on its own.
Whether this is your first or fiftieth Valentine's Day together, it's bound to be your best one yet. Cheers!