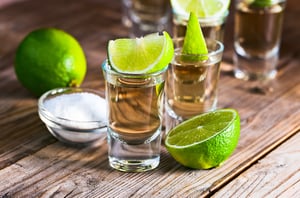 When you hear the word "tequila," you might conjure up images of blurry college parties or taco Tuesdays and bottomless margaritas. It's true that tequila has gained a rowdy reputation, but for discerning drinkers, there's more to appreciate.
As you plan a night out at your favorite Mexican restaurant, or when you're preparing to host a Cinco de Mayo party of your own, take a minute to examine these five types of tequila to determine which one(s) you want to savor next.
Hold On! There are Different Types of Tequila?
You've probably heard the different types without knowing it:
Knowing the difference between the various kinds of tequila will help you find the right one for the right time, whether it's a standalone cocktail, something to sip over conversation, or part of your complete food and drink plan for a dinner party.
Where Does Tequila Come From?
Tequila is produced from the heart of the root-like blue agave plant, which grows in hot climates such as Mexico. The combination of soil nutrients, weather factors, and subsequent sugar content of each blue agave plant determines the flavors and final resulting tequila.
Location, location, location. You might have heard that official tequila only comes from several parts of Mexico: the state of Jalisco and limited regions in the states of Guanajuato, Michoacán, Nayarit, and Tamaulipas.
If you only remember one thing that differentiates tequila, remember this: age and percentage of agave are key.
What is Tequila Blanco/Silver?
If you want the true flavor of agave, this is your tequila. Blanco tequila is not aged. It's clear in appearance, and it's distilled and bottled right after production. Some producers may age it in stainless steel tanks for a few weeks or up to two months, but no longer.
What is Tequila Oro/Gold?
Sometimes called "Joven," oro/gold tequila is a mixture that includes other flavors or colors before bottling. In many instances, this is on the more affordable side of the price spectrum, and gold tequilas are often what you'll find in the mixed drinks at your local bar.
What Does Tequila Reposado Mean?
Tequila is classified as reposado if it's aged between two months to one year. The barrel flavors and wood notes (from bourbon, whiskey, cognac, or even wine barrels) fuse with the blue agave sugars to make interesting flavor combinations. Tequila Reposado is fun territory, where you may find a superb combination of aroma and flavors like butterscotch, vanilla, toasted coconut, peppery notes, cinnamon, and candied fruit.
Think of this as the golden, balanced medium between blanco and aged tequila.
What is Tequila Añejo?
This is considered extra-aged tequila, between one to three years. There are fewer notes of the pure agave and more of the aged flavor from time in barrels. By the way, those barrels cannot exceed 600 liters. You'll find tequila añejo is a richer amber color from time spent aging, which allows the flavors to open into more complex and smoother territory for your drinking curiosities.
OK, So What About Tequila Extra Añejo?
You guessed it — extra añejo tequila means even more time in barrels, even more time to pull flavors and texture from those vessels. This one is for the patient drinkers among us.
It's a more recent development in tequila production, becoming common classification in 2006. Some barrel aging may add more smoothness for some, and more spiciness and intensity for others, so it's not for the faint of heart. Water may be added to dilute after such rigorous aging of this rich mahogany-colored tequila.
Which tequila will you try next? Use Cinco de Mayo as an opportunity to try a few or offer your party guests a chance to discover their favorite type of tequila, and they won't soon forget it.