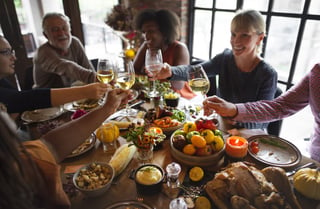 The holiday season is upon us, and first up is our favorite feast, Thanksgiving. Part of being a gracious guest is always bringing a host or hostess a gift. Show appreciation to those who prepared the meal and invited you into their home with a bottle of wine that is food friendly, and ready to drink. So, how do you find the right Thanksgiving wine?
Consider that a traditional Thanksgiving will likely have a roasted turkey which can go with just about any wine. It's the side dishes that are the wild card. Gravy, mashed potatoes, wild rice stuffing, cranberries. It's truly a feast, so you'll need to keep your wine versatile like the food on the table.
Crowd-Pleasing, Food-Friendly Wines
Don't try and match taste for taste, and don't break the bank on a bottle of rare wine. You are looking for a wine that appeals to everyone. Here a few types that work well.
Beaujolais Nouveau: Appealing and Affordable
Our favorite is the Beaujolais Nouveau, a wine that everyone at the table will enjoy. It's approachable, light, a little fruity, and a tell-tale of the wine to come. This is a wine meant to be enjoyed young and is fabulous with food. It's also considered "good luck" to drink before New Year's Eve.
Beaujolais Nouveau is a popular red wine produced in France that is fermented for only a few weeks before it is released. The event, known as Beaujolais Nouveau Day, is celebrated only once per year on the third Thursday in November to honor of the first wine of the harvest. Come celebrate with us and the world November 16 by purchasing a few bottles for your holiday weekend.
If you're still unsure what to choose, we can help you. Stop by any of our Haskell's locations and talk to our wine consultants. They're sure to recommend a bottle that will quickly become a family favorite.