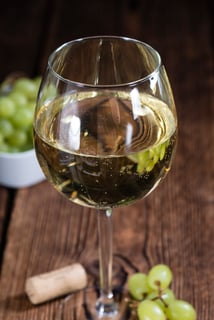 Did you know you could buy wine from Haskell's and get it delivered directly to your door with only a few clicks? You can order online 24/7 here at Haskells.com, and if you want your refills really quickly, we've partnered with Drizly, an online service that delivers beer, wine and spirits in an hour or less. That makes life a lot easier for folks who want to bypass the highway and get their spirits fast.
Since it's January and we all tend to hibernate a little during the winter months, we've come up with our top five reasons you should buy wine online. We've had a little fun with these, but hopefully, you'll be able to relate.
1. The fireplace is toasty.
You've just started the perfect fire and noticed you are out of your favorite bottle of wine. Sit down. Grab your Smartphone. Order that bottle or two of wine. Add another log to the fire. Answer the door.
2. Binge watching Netflix.
You've just started watching "Making a Murderer" and poured the last drop of Pinot. Grab your Smartphone. Put Netflix on pause. Order that bottle or two of wine. Resume binge watching. Answer the door.
3. You're feeling a little lazy.
There is no shame in admitting you'd rather be doing anything else than putting on pants, boots, and a coat, cleaning off the car, warming up the car, fighting traffic, parking, and shopping. Let your fingers do the clicking.
4. Your parents are coming over.
Your Mother just called and she and your Father miss you and decided to come over with some treats. Mom likes a Sauvignon Blanc. Dad likes a little Sherry. Your wine rack consists of Cabernets and Zinfandels. Grab your Smartphone. Order that bottle of wine for Mom and Dad. Clean the house. Answer the door.
5. You like to shop on your own hours.
The Internet is known for 24-hour shopping, and why should wine and spirits be any different? Shop our full selection any time of day or night. And since we handle the delivery, you don't have to worry about carrying bags or boxes.
Whatever your reason, we've got you covered. We say take advantage of someone else trudging through the snow and find your favorite wines and spirits at your door in less than an hour. You are welcome. We think it's splendid and hope you do too.
Founded in 1934, Haskell's has championed fine wines for over 80 years. We have 13 wine stores in Minnesota, two delis and one restaurant. As one of the top wine shops in North America, Haskell's is known for legendary service and one of the finest collections of wine, beer and spirits. Led by Chairman and CEO Jack Farrell, and the Farrell family, Haskell's continues to be at the forefront of the wine scene throughout the world. Haskell's also can ship wine, beer & spirits all throughout the world, the U.S. and we deliver locally.