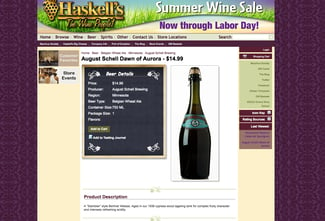 Sure, we love it when you come in and browse our large selections of craft beer, fine wines, and spirits, but we also realize there are situations when time is of the essence and you can't – or simply don't feel like heading to the store. So, now you can do it right here. You can buy craft beer online – along with all your other favorites.
Anyone with an Internet connection is just a few clicks away from saving time and buying online. Whether you're on an iPhone, Android, iPad, or any other kind of tablet, laptop, or desktop – you can browse, click and use that extra hour doing what you need to do.
Need a few good reasons to let us do the work for you? How about FIVE top reasons to buy craft beer – or any beer – online with Haskell's?
Your time has value. If you could save 30 minutes or more by staying put, skipping traffic, and getting exactly what you want without getting in your car – what's it worth to you?
Convenience. Face it, we ALL like it when at least one thing goes smoothly and is convenient – your favorite beer in your hand should be one.
Party order? Check! Preorder your favorites and the beer will be ready when the party starts. And you get somebody else to carry the cases!
Quick delivery in Minneapolis with our friends at Drizly. In fact, if you run out of beer, you don't even have to leave he party – new beer can be there in 20 minutes.
Give the Gift of Cheer. If you were planning to order a gift to ship to a friend or relative, why not send them some wine or spirits? We even have some great gift baskets. Just click and ship.
Of course, if you are not in Minneapolis – you are covered. In fact, you have delivery choices, which are especially convenient if you are heading "Up North" for instance and want your beer ready when you arrive. No need to stop your travels when you can have it delivered to your cabin or lake home door – wherever that may be in Minnesota. You do need an address for the delivery team to find you, however!
Delivery options:
Order and pickup in any of our stores.
Twin Cities delivery to your door
Shipped to your home FedEx (Ground)
Shipped to your home FedEx (Overnight)
Think about the time, convenience, lower sales tax, fast delivery – and the fact that all you need is a connection, a credit card, and a few moments for your store-to-door beer.
Whatever mobile device or computer system you are reading this on is all you need to make your next beer run on Haskells.com. Cheers!
Founded in 1934, Haskell's has championed fine wines for over 80 years. We have 13 wine stores in Minnesota, two delis and one restaurant. As one of the top wine shops in North America, Haskell's is known for legendary service and one of the finest collections of wine, beer and spirits. Led by Chairman and CEO Jack Farrell, and the Farrell family, Haskell's continues to be at the forefront of the wine scene throughout the world. Haskell's also can ship wine, beer & spirits all throughout the world, the U.S. and we deliver locally.