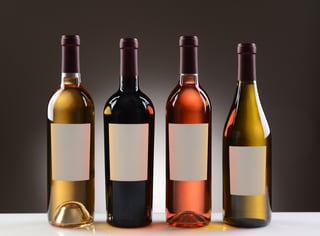 Spring and summer in Minnesota mean weddings, reunions, parties, and other fun events. And, as those events pile up (or even blend together), we are further reminded that it's important to find unique ways to celebrate the special occasions in our life. Consider something out-of-the-box (and on a bottle) with a personalized custom wine label.
At Haskell's, we offer great gift ideas for all budgets. It's another of the many concierge services available at Haskell's Wines and Spirits. In fact, this is one of the best times of year to consider ordering that special bottle — either one or 500 of them — to celebrate the special people and occasions in your life.
How it works: you contact us. We work with you to create a customized label for your bottle of wine. Have a company logo? A photo? A family crest? We can help.
Times to consider a custom wine label:
Make it personal. Make it special. We propose a number of ideas to consider, like this one: Pop the question with a personalized custom label bottle of champagne. The ideas just bubble up inside.
Custom-labeled wines are wonderful gifts at celebrations ranging from A to Z (or in this case, we stopped at W, as great gifts for members of the wedding party):
Anniversary party
Bachelor or bachelorette parties
Birthdays
Bridesmaids
Client appreciation
Company launch
Company picnic
Engagement party
Family reunion
Father's Day
High School reunions
Mother's Day
Retirement party
Wedding party
It's only $19.99 per bottle, including label, wine and gift box. And volume discounts are available — the more you order, the less it costs.
Find out how to order yours by contacting us at: service@haskells.com or 612-333-2434 x 950.