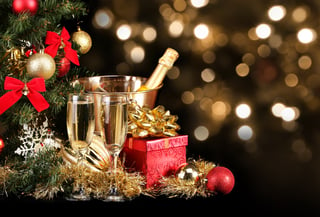 Now that the Thanksgiving turkey dinner has been digested, perhaps with a glass of Beaujolais Nouveau, and the last piece of pumpkin pie savored with a snifter of brandy, let's forge ahead with a dozen great choices for your Christmas wine this year.
If you are dreaming of a white Christmas, you can with some of these terrific white wines. Even though red wines tend to dominate the winter months, there are plenty of white wines worth uncorking this holiday season – and some terrific reds.
Let's look at a dozen wine ideas to round out the 12 Days of Christmas.
The 12 Wines of Christmas – White Wines
The 12 Wines of Christmas – Red Wines
If you need a specific recommendation, stop by and ask any of our wine experts. We can help you find the right wine for your holiday planning and for all 12 Days of Christmas.
Founded in 1934, Haskell's has championed fine wines for over 80 years. We have 13 wine stores in Minnesota, two delis and one restaurant. As one of the top wine shops in North America, Haskell's is known for legendary service and one of the finest collections of wine, beer and spirits. Led by Chairman and CEO Jack Farrell, and the Farrell family, Haskell's continues to be at the forefront of the wine scene throughout the world. Haskell's also can ship wine, beer & spirits all throughout the world, the U.S. and we deliver locally.