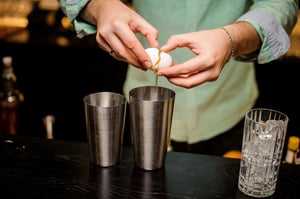 It might shock you if you're not prepared for it, especially if you've never even heard of egg cocktails before. But this is creamy, textured good news for your home bartending or the next time you're out and want to order something off — or rather on — the egg-beaten path.
Here is everything you'll need to know about egg cocktails and three delicious recipes to try.

Eggs and Alcohol: How it All Began
In the Middle Ages, it was common practice to make posset, a sort of dessert drink made with beaten eggs, milk, spices, and alcohol, for sick people. Over time, the recipe was adapted to what we know today as eggnog.
Then, in the late 19th century, bartending books started mentioning the Egg Flip and the Egg Lemonade. The Whiskey Sour, made with egg white, dates back to 1862. Despite the U.S. Food and Drug Administration's caution about consuming raw eggs, people continue to enjoy these cocktails today.
You Want Me to Add What to My Cocktail?
Adding an egg to your cocktail may seem strange, but there's a reason people do it. And it's not just because they're seeking a protein-rich diet.
Think about when you beat an egg. Do it for just the right amount of time and it makes your scrambled eggs light and fluffy. That's because the egg's proteins trap air as they're shaken up. The same happens when you shake egg into your cocktail, it creates the stiff bubbles that form a thick layer above the drink.
There are two ways to shake your egg cocktail. The "dry shake" includes the egg white with all the other ingredients, except ice. The "wet shake" includes all the ingredients and ice as a way to chill your cocktail.
Notice how you don't get much egg flavor when you enjoy a drink with only egg white? That's because the egg taste comes from the yoke. (Think eggnog.)
Is it Safe to Consume Raw Eggs in Cocktails?
There is a small risk you could get sick from consuming raw eggs.
If you're sick, elderly, young, or pregnant, it's smart to avoid raw eggs. Salmonella poisoning is possible. However, some say you're 10 times more likely to choke on your food than get sick from consuming raw eggs.
Know the risk and do what's best for you. Note: pasteurized eggs are available as a safer option.
Three Eggcellent Recipes
Browse through bar menus for egg cocktails, and it won't be long until you see a few common types: the Sour, the Flip, and the Fizz.
Start with a Classic: Whiskey Sour
(Sometimes called a Boston Sour with the egg white.)
1-1/2 oz. Wild Turkey Rye Whiskey

1-1/2 oz. fresh lemon juice

3/4 oz. simple syrup

1 egg white

Maraschino cherry for garnish
Pour whiskey, lemon juice, simple syrup, and egg white into a cocktail shaker with ice cubes. Shake well. Strain into a chilled sour glass or over ice in an old-fashioned glass, and garnish with the cherry.
Give the Mimosa a Break for Something Spunkier: Fernet Champagne Flip
1-1/2 oz. champagne/sparkling wine

1 oz. Fernet-Branca
1 oz. Koval Ginger Liqueur

1 egg white

1/2 oz. lemon juice

A couple dashes of aromatic bitters

Lemon and mint for garnish
Pour the champagne into a chilled cocktail or coupe glass. In a shaker, combine the Fernet, ginger liqueur, egg white, lemon juice, and bitters. Shake. Add a handful of ice and shake again, vigorously, for a minute or so. Strain into your glass and garnish.
Channel Your Summer Fun: Fizzy Grapefruit, Vodka, and Mint Cocktail
2 oz. Zyr Vodka

5 leaves of mint

4 oz. fresh-squeezed grapefruit

1 egg white

2-3 grapefruit segments
Pour the vodka and the mint into a martini shaker. Muddle the mint well. Add some ice to the martini shaker and then the fresh grapefruit juice and the egg white. Shake well. Pour into a glass of ice, garnish with grapefruit segments and a little mint.
Once you've taken a crack at these egg cocktails, try some others. After all, there's no shortage of these eggsquisite recipes.