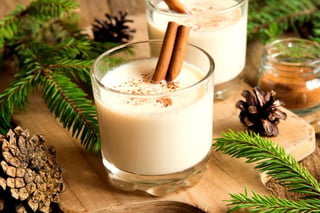 Nothing else signifies that the holiday season is here quite like eggnog. Whether you're hosting a holiday party or just want to cozy up by the fire, eggnog is a comfort drink sure to warm you up this time of year. But why is eggnog typically only enjoyed during the cold holiday months?
That's a question culinary historians have been pondering for years. Many believe that eggnog began as a hot British drink made of milk curdled with wine or ale. The etymology of the word itself is much debated. Some say "nog" was a reference to a strong brew, others write that "nog" may stem from "noggin," a Middle English term for a small, carved wooden mug used to serve alcohol. One online dictionary claims the word is an American term invented in 1765.
So, What is Eggnog?
A traditional version of homemade eggnog is a chilled dairy-based beverage made with milk, sugar, cream, whipped egg whites and egg yolks, and it's typically enjoyed from Thanksgiving through New Year's Day with or without alcohol.
We think this holiday drink is pretty delicious and so did our country's founder, President George Washington. Check out this recipe. Note the brandy, rye whiskey, rum and sherry.
George Washington's Christmas Eggnog
"Mix liquor first, then separate yolks and whites of 12 eggs. Add sugar to beaten yolks and mix well. Add milk and cream, slowly beating. Beat whites of eggs until stiff and fold slowly into the mixture. Let set in cool place for several days. Taste frequently."
Next Generation Eggnog Recipes – or Not Your Grandparent's Eggnog
Caribbean Punch de Creme Eggnog
6 eggs
2 limes (or lemons, zested)
4-1/2 cups evaporated milk (full fat/whole)
1-3/4 (14 ounces) cans condensed milk
1 cup

dark rum
2 tsp. Angostura Bitters
1/2 tsp. nutmeg
Fill an old-fashioned glass with vodka and coffee liqueur, stir. Top with eggnog and stir well, until combined. Add ice cubes, and serve with a sprinkle of nutmeg. Super simple.
Salted Butterscotch Bourbon Eggnog (Makes 12 servings)
6 eggs, separated into yolks and whites
1/3 cup salted bourbon butterscotch sauce
1/2 tsp. salt
4 cups whole milk
2 cups whipping cream
1 tsp. ground cinnamon
1/8 tsp. ground nutmeg
1/8 tsp. ground cloves
1 tsp. vanilla extract
1/4 cup sugar
9 oz.

bourbon
3 oz.

Amaretto
Whisk egg yolks, butterscotch sauce and salt until smooth. Add milk, whipping cream, nutmeg, cinnamon, cloves and vanilla. Whisk until smooth. In a bowl with a standing mixer, or with a hand mixer, whip egg whites with 1/4 cup sugar until soft peaks form, around 8-10 minutes. Fold whites into cream mixture until smooth. Chill until cold, serve in a punch bowl with bourbon and Amaretto, or individual glasses with .75 oz. bourbon, and 1/4 oz. Amaretto for each. Top with more grated nutmeg.
In a medium heatproof bowl, whisk egg yolks and 1/2 cup sugar until pale yellow and thick, about 2 minutes. In a medium saucepan, bring milk and salt to a bare simmer. Whisking constantly, slowly pour hot milk mixture into yolk mixture. Pour yolk mixture back into saucepan. Cook over medium heat, stirring constantly with a wooden spoon until mixture is just thick enough to coat back of spoon and hold a line drawn by your finger, 3-5 minutes. Pour mixture through a fine-mesh sieve into a large bowl. Discard solids. Let cool, stirring occasionally, about 20 minutes. Add beer, cream and rum. Cover and refrigerate overnight. Whisk remaining 1/4 cup sugar and egg whites in a heatproof mixer bowl set over (not in) a pan of simmering water. Whisk until sugar is dissolved and mixture is warm (it should feel smooth between your fingers), 2-3 minutes. (For fully cooked eggs, a thermometer inserted into meringue should register 160 degrees). Remove from heat. With a mixer on high speed, beat until stiff peaks form, about 5 minutes. Fold into eggnog. Pour into glasses (or a punch bowl). Top with a dollop of whipped cream and sprinkle with chocolate shavings.
Of course, eggnog drinks can be traditional with a spot of your favorite dark rum, but don't be afraid to experiment. Have fun! Drink responsibly and enjoy.