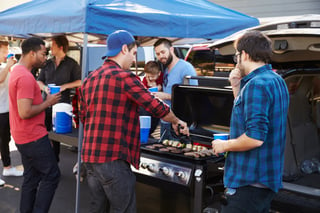 Football season is around the corner and nothing says team spirit quite like a good tailgating session before a big game. Midwesterners have it down to an art and packing the cooler is like a ritual. Beer? Check. Ice? Check. More beer? Check.
But there is more to a party than beer. We also know cocktails made with the right kind of liquor can be equally as refreshing. We vote for your favorite bottle of whiskey, or two.
Four Reasons to Add Whiskey to Your Tailgating Pre-Game
Irish Whiskey. Many games start early in the day. Bring along a bottle of Jameson, grab a few lattes on the way over, add a shot, and there you go! Sure, a traditional Irish Whiskey is coffee, cream, and brown sugar but this trick makes it quick and sweet.
Jack and Coke. You know you have pop in your cooler. A bottle of Jack Daniels will go a long way to warm your soul and your body on a cool day.
Boilermaker. Drop a shot of blended whiskey in your beer. Drink up.
Tailgating Tips:
Freeze bottles of water to use in place of ice in coolers. You'll then have cold water to drink as it melts.
Create a mini emergency kit with aspirin, Tylenol, bandages by using an empty prescription bottle, or Altoid tin.
Tie distinctive flags or colorful balloons to your vehicle so your friends can find you. Check out your local dollar store for filled helium balloons for a buck!
Don't forget to eat!
Beer and whiskey don't go well with an empty stomach. Here are a couple unique recipes to fix-up before your next tailgating adventure:
Mini Italian Beef Sandwiches with Pepperoncini Slaw
1

17-ounce package

of

refrigerated cooked beef roast au jus

2

cups

frozen peppers (yellow, green, and red) and onion stir-fry vegetables


1/2

teaspoon

dried Italian seasoning, crushed


1/8-1/4

teaspoon

crushed red pepper

2

cups

coleslaw mix (shredded cabbage with carrot)


1/2

cup

pepperoncini salad peppers, stemmed and chopped, plus 2 tablespoons drained liquid


1/2

teaspoon

dried Italian seasoning, crushed

12

(2-3

inch)

rolls, split
Place beef and juices in a medium saucepan; break up any large pieces. Add stir-fry vegetables, 1/2 teaspoon Italian seasoning and the crushed red pepper. Heat through just to boiling. Meanwhile, for slaw, in a medium bowl, combine coleslaw mix, pepperoncini peppers and liquid, and 1/2 teaspoon Italian seasoning. To serve, spoon meat mixture on roll bottoms. Top with coleslaw mixture; add roll tops.
2 cups chopped/shredded rotisserie chicken
12 ounces cream cheese, softened
1 cup cheddar cheese
1 cup low-fat, 3-cheese ranch
1/4 cup fresh cilantro, chopped
1/4 cup green onion, diced
1 tbs. garlic salt
1/2 - 1 cup of your favorite BBQ sauce,
Place ingredients in a slow cooker on high, stirring occasionally. Once dip is hot and all the ingredients are melted together, you can set the cooker on warm while serving. Garnish with more shredded cheddar and green onions. Serve with crackers, tortilla chips, or veggies.