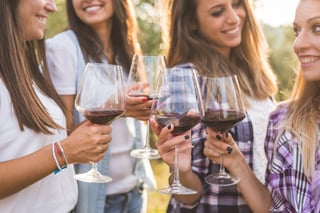 Autumn means many things, and the season is ripe for trips to wine tastings and wineries. Whether you are a novice or a natural in the tasting rooms, there are always questions that we're asked about —what to expect, what to do, and especially, what not to do at a wine tasting.
We've put together an easy cheat sheet of basic wine tasting etiquette to make your next visit an experience you'll remember.
Wine Tasting Basics
Don't wear heavy colognes or scents! Why? Part of the experience of wine is allowing your senses to open to the nose or bouquet of a wine. If you or others are bringing in other scents, it just messes with the aroma. Go au naturale!
Don't go on an empty stomach! Tasting all that wine on an empty belly will make you feel sick, so eat. You'll feel better. Trust us.
Go with an open ear. Listen more, talk less. Your wine guide will be sharing his or her knowledge about the grapes, the winery, the production, the wine. You're there to learn, and taste. Enjoy. Ask questions. Be a part of the conversation but don't show off. Don't be that guy or gal.
When tasting, start light, end heavy. Light whites, reds, and then ports if they have them.
Take names, take notes. Feel free to write down what you like, and why. Write down your experience. Many tasting rooms have scorecards or sheets to help you rate a wine and take notes.
Spitting is allowed. If you don't care for a wine, or are visiting many tasting rooms in one day, you don't have to swallow if you don't want to.
Have fun! The joy of the experience is having the experience. Taste, savor, and taste again. Ask questions. And, then buy a bottle or two. Bring home the experience so you can enjoy it again.
These wine terms might come in handy, too:
Aroma

–

Also known as the nose or bouquet of a wine. Refers to the smells you experience when sniffing wine.
Body

–

The sense of feeling in the mouth often thought of as light-bodied or full-bodied, for instance.
Bouquet

–

Another word describing the aroma of a wine.
Creamy

–

Describes a wine that has a rich, creamy mouth-feel, like butter.
Chewy

–

A big dense wine that has a fleshy mouth-feel.
Dry

–

A wine that does not taste sweet.
Jammy

–

Describes a very ripe wine with flavors and feel of jam.
Oaky

–

A wine that has been aged in oak and has an oaky feel to it.
Tannin

–

That mouthwatering substance. A wine that is tannic may be described as having an astringent feel.
Young

–

Describes a wine that has not yet matured.
In the mood to sharpen your wine knowledge even further? Check out the free Haskell's Essential Guide To Wine. We also host wine tasting events at a number of our Haskell's locations. Stop on by!