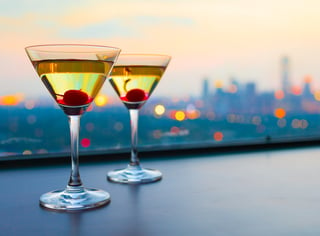 Sometimes you just need a cocktail. A strong, old fashioned, knee bending, sit down and smoke a cigar with your best friend kind of a stiff drink. Ladies and gentleman, we introduce you to six perfectly strong cocktails that are not for the faint of heart – or for anyone who is not planning to use Uber. Hide the keys, if this is what you're imbibing, no one is driving.
Now that we've set the guidelines, buckle up, because these super strong cocktail recipes are not for the faint of heart.
Could this truly be the strongest cocktail in the world? Stories suggest it was invented by "Aunt Roberta," an Alabama woman who came up with her signature cocktail quite accidentally, and while inebriated. Look at the ingredients and it's pretty easy to believe that story.
Ingredients:
Two shots of absinthe
Three shots of vodka
One shot of brandy
One and a half shots of gin
One shot of blackberry liqueur
Mix all the booze in a cocktail shaker and pour over ice. Sip, sigh, repeat.
Sazerac
This New Orleans classic cocktail was first made popular in the mid-1800s. In 1940, the Official Sazerac Cocktail recipe was modified to use Herbsaint as the absinthe, which was added to the recipe in 1870.
Ingredients:
1 sugar cube
1½ ounces Sazerac rye whiskey (or your favorite bourbon)
¼ ounce Herbsaint
3 dashes Peychaud's bitters
Lemon peel
Pack an Old-Fashioned glass with ice. In a second Old-Fashioned glass, place the sugar cube and add the Peychaud's bitters to it, then crush the sugar cube. Add the Sazerac rye whiskey (or bourbon) to the second glass containing the Peychaud's bitters and sugar. Empty the ice from the first glass and coat the glass with the Herbsaint, then discard the remaining Herbsaint. Empty the whiskey/bitters/sugar mixture from the second glass into the first glass and garnish with lemon peel.
Long Island Iced Tea
Yes, Marge Simpson, Long Island is a real place where this strong and delicious cocktail was born.
Ingredients:
2 cups ice cubes
1 part vodka
1 part gin
1 part white rum
1 part white tequila
1/2 part triple sec
1/2 part sour mix
1 splash Coke
Lemon wedges for garnish
Add to a tall glass in the order above and enjoy.
Zombie Cocktail
This rum concoction was invented by Donn Beach of Hollywood's Don the Beachcomber restaurant in the 1930s. It was popularized soon afterward at the 1939 New York World's Fair.
Ingredients:
1 1/2 ounce Jamaican rum
1 1/2 ounce gold Puerto Rican rum
1 ounce 151-proof Demerara rum
1/8 tsp. Herbsaint or Pernod
1/2 ounce falernum
1/2 ounce Donn's Mix (see below) **
1 tsp. grenadine
1 dash Angostura bitters
6 ounces crushed ice
Tools: blender
Glass: chimney
Garnish: mint sprig
**Donn's Mix
3 cinnamon sticks, crushed
1 cup sugar
1 cup water
fresh grapefruit juice
Put everything in blender, saving the ice for last. Blend at high speed for no more than 5 seconds. Pour into a glass and add ice cubes to fill. Garnish.
Manhattan
Keep it simple with this three-ingredient classic.
Ingredients:
2 ounces rye whiskey
1 ounce sweet vermouth
5 drops Angostura bitters
Add all the ingredients to a mixing glass and fill with ice. Stir well and strain into a chilled cocktail glass. Garnish with a cherry.
It's delicious, aesthetically pleasing, and quite alcohol laden.
Ingredients:
2 tablespoons gin
2 tablespoons Campari
2 tablespoons sweet vermouth
1 orange twist
Combine gin, Campari, and sweet vermouth in an ice-filled Old Fashioned glass; stir gently and garnish with an orange twist.
Founded in 1934, Haskell's has championed fine wines for over 80 years. We have 13 wine stores in Minnesota, two delis and one restaurant. As one of the top wine shops in North America, Haskell's is known for legendary service and one of the finest collections of wine, beer and spirits. Led by Chairman and CEO Jack Farrell, and the Farrell family, Haskell's continues to be at the forefront of the wine scene throughout the world. Haskell's also can ship wine, beer & spirits all throughout the world, the U.S. and we deliver locally.