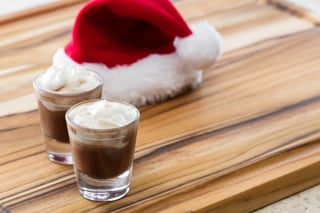 Maybe it's the fun of the new The Peanuts Movie that has us thinking about peppermint (Thanks Patty), or maybe it's because we just like Schnapps. Whatever the reason, we are here to share some great cocktail ideas worth exploring. These aren't your grandmother's Peppermint Schnapps recipes but what if they were? We think Grandma rocks.
What is Peppermint Schnapps?
Basically, a strong peppermint-flavored spirit that goes great with chocolate, vodka, and whiskey. Here are six cocktails with peppermint schnapps you want to try in time for the holiday.
Peppermint Pattie
Named after the candy, not the Peanuts character. And it's full of minty goodness.

Ingredients:

Combine ingredients in a shaker with ice. Stir gently and strain into a chilled cocktail glass.
 (Original Recipe)
Hot Chocolate with Peppermint Schnapps
It's just what is sound like – your favorite hot chocolate recipe with a jigger of Peppermint Schnapps. Top it with whipped cream, light the fire, enjoy. Try this if you want to make your own hot chocolate.
Ingredients:
1 quart milk
6 ounces semisweet chocolate, chopped
6 ounces peppermint schnapps (more or less to taste)
whipped cream, for serving
6 peppermint stick candy, for serving
Heat 1 cup of the milk in a medium saucepan over low heat. Add chocolate, stirring constantly, until melted. Increase heat to medium and add the remainder of the milk while whisking rapidly. Do not allow to boil. Serve in small cups fortified with a jigger (1 1/2 ounces) of peppermint schnapps and a dollop of whipped cream. Add a peppermint stick to stir.
Vanilla Peppermint Martini
It doesn't need to be the Christmas season to enjoy a candy cane, does it?
Ingredients:
Candy canes
2 1/2 ounces Vanilla Vodka
1 ounce Peppermint Schnapps
Lime
Fresh mint
Ice
Add vodka and schnapps to shaker and shake well. Wet the rim of your martini glass with the lime, and dip it in crushed candy canes. (If you don't want to do this, you can always dangle a candy cane off the rim of the glass.) Pour vodka and schnapps into the glass, and add a sprig of mint at the end.
White Chocolate Peppermint Martini
We love that we found this killer recipe from Betty Crocker. Just don't let the kids try this one. It's heavy on the vodka, light on the schnapps, loaded with goodness.
Ingredients:
Marshmallow sundae topping
2 peppermint candies, crushed
Ice
¼ cup vanilla vodka
1 tablespoon peppermint schnapps
1/4 cup white chocolate liqueur
Dip the rim of a martini glass in marshmallow topping then crushed peppermint candies. Drizzle some marshmallow topping on inside of glass; place glass in freezer. In a shaker with ice, add vodka, schnapps, and the liqueur. Shake until mixed; pour into prepared glass. Sprinkle with crushed peppermint. (Original Recipe)
Lemon Mint

A simple mix with a surprising flavor. Try it in the summer.


Ingredients:
1 ounce Peppermint Schnapps
6 ounces lemonade soda
Mix ingredients together in a tall glass filled ¾ with ice cubes.
Jack Frost Manhattan
A minty take on a true classic.


Ingredients:
2 parts Jack Daniels Tennessee Whiskey (or your favorite Whiskey)

1 part Peppermint Schnapps
1/4 part Sweet Vermouth

Mix all ingredients in a cocktail shaker with ice. Strain into a chilled martini glass. Garnish with cherry. (Original Recipe)
When was the last time you bought a bottle of Peppermint Schnapps? We thought so. Come on in. Our check out our Schnapps selection online. We can help you with this.
Founded in 1934, Haskell's has championed fine wines for over 80 years. We have 13 wine stores in Minnesota, two delis and one restaurant. As one of the top wine shops in North America, Haskell's is known for legendary service and one of the finest collections of wine, beer and spirits. Led by Chairman and CEO Jack Farrell, and the Farrell family, Haskell's continues to be at the forefront of the wine scene throughout the world. Haskell's also can ship wine, beer & spirits all throughout the world, the U.S. and we deliver locally.