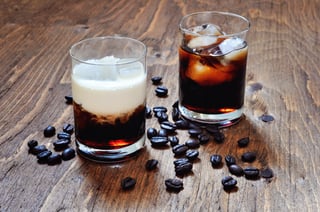 When was the last time you mixed up a tasty White Russian cocktail? If it's been awhile, the time is now to rediscover this sweet coffee and rum liqueur – just in time for National Kahlua Day, celebrated yearly on February 27.
Kahlúa is the original rum and coffee liqueur — made with rum, Mexican coffee, sugar, and vanilla. So, what do you make with it? It's versatile, meaning Kahlúa plays well with others. There are the classics, plus a new twist.
Six of the Best Kahlúa Cocktail Recipes
The Revolver
Ingredients:
2 oz of Bourbon
1/2 of Kahlúa
2 dashes of orange bitters
Combine a rye-heavy bourbon, coffee liqueur, and orange bitters in a mixing glass and fill with ice. Stir well until chilled, about 30 seconds. Strain into chilled cocktail glass. Garnish with a wide strip of orange zest.
Ingredients:
5 parts Blanco tequila
5 parts Kahlúa
.75 part Fresh Lime Juice
.5 part Fresh Grapefruit Juice
Pinch Salt
Top with Club Soda
Fill the glass with ice and add the tequila, Kahlúa, salt, and juices. Top it off with club soda.
White Russian
Ingredients:
2 parts Vodka
1 part Kahlúa
1 part cream (or milk)
Fill a rocks glass with ice, add Kahlúa, vodka, cream, and enjoy.
Black Russian
Ingredients:
1 part Kahlúa
2 parts vodka
Fill a rocks glass with ice, add Kahlúa and vodka, and enjoy.
Kahlúa Espresso Martini
Ingredients:
1 Part Kahlúa
2 parts vodka
1 part espresso (strong coffee may work as well)
Optional: Add simple syrup to taste
Add all the ingredients to a shaker and fill with ice.
Shake vigorously and strain into a chilled Martini glass.
Ingredients:
4 oz. Kahlúa
2 oz. tequila
Fill with chocolate milk
Pour tequila and Kahlúa into a hurricane glass. Fill the rest with chocolate milk. Stir well.
PRO TIP: When in doubt, simply add a little Kahlúa to your after dinner coffee or hot chocolate. It will never fail you.
Founded in 1934, Haskell's has championed fine wines for over 80 years. We have 13 wine stores in Minnesota, two delis and one restaurant. As one of the top wine shops in North America, Haskell's is known for legendary service and one of the finest collections of wine, beer and spirits. Led by Chairman and CEO Jack Farrell, and the Farrell family, Haskell's continues to be at the forefront of the wine scene throughout the world. Haskell's also can ship wine, beer & spirits all throughout the world, the U.S. and we deliver locally.